Believe the Hype: Manchester City Preview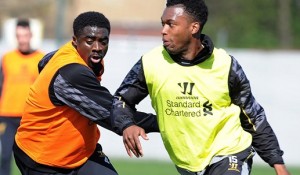 We've spent the vast majority of the season playing down our chances, discounting our immense run of form and patiently waiting for the worst to play itself out. After too many years saying that this year was the one where Liverpool re-assert their dominance and finally claim their first title of the Premier League era, it's been a long, strange ride, but it looks like we've finally arrived at the station.
In what will be the Reds last match before the 25th Anniversary of the Hillsborough Stadium disaster, it's only fitting that they sit top of the table and poised to continue their run of nine-wins on the hop. Win, lose or draw, the atmosphere promises to be something out of this world, and Manchester City — early favorites to reclaim the crown they lost to cross-town rivals United last year — have what's sure to be their most difficult game of the season ahead of them.
Despite the enormity of the occasion, this is far from the end. While the winner — if one should be so lucky — will take a massive stride towards claiming the top spot, there's far too much football left to play to use words like "decider" and "finale". Following the match, Liverpool will have four games left, including a clash with fellow title challengers Chelsea. Manchester City, on the other hand, hold two matches in hand over their hosts and will have six more opportunities to get it right; or, it has to be said, to slip up.
The Citizens missed out on a chance to steal a march on the pair at the top when they drew 1-1 with Arsenal a few weeks back, and those two points could very well play a huge role come May. Should Manuel Pellegrini's side want to settle their nerves during the decisive run in, nothing less than a win tomorrow at Anfield will do it.
It also has to be said that nothing short of a win for the Reds will see them lose control. After nine wins on the hop, Brendan Rodgers side have to keep winning if they want to keep the less than comfortable gap they've opened at the top alive. The two point lead they hold over second placed Chelsea is precarious at best, and should the Blues topple struggling Swansea City, Jose Mourinho's side will remain very much in the chase; even a draw could yield their lead to Pellegrini's side.
Things are just that tight at the top of the table — it's just as likely that someone is going to run away with the title as it is that someone is going to run away with the match tomorrow. This season we've seen Liverpool dominate some of the top sides in the Premier League — both home and away — but it'd be hard to expect anything less than what unfolded at the Etihad back in December, but hopefully with an altogether different result.
Last season, we'd be dead worried about City coming to Anfield, but last season we weren't playing quite like this, were we? Nine wins on the trot is massive, but when you consider that we're unbeaten in fourteen and have scored 46-goals en route to this match, you have to fancy our chances against anyone. It's time to believe the hype; Manchester City, Barcelona, Bayern Munich or Real Madrid — we'll be having that.
GET IN.
–Steven