Liverpool Take "Important Step" Towards Anfield Regeneration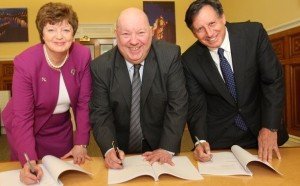 Liverpool's proposed redevelopment of Anfield took an important step forward yesterday when the club signed a legal agreement with both Liverpool City Council and Your Housing Group to push their plans forward.
Progress on both the regeneration of the area and the proposed expansion of the Reds stadium has been slowing moving, but progress is being made with the latest step just another hurdle cleared. Liverpool Chairman Tom Werner was in town to sign the "heads of terms" document which clears the way for the proposed £260million plan to regenerate the Anfield area. The legal agreement sets out both the roles and responsibilities of the parties involved and outlines the principles of the formal contract. In other words, it makes sure stuff is going to get done right.
"We are pleased that great progress has been made with the city council and Your Housing Group about the plans for the regeneration of Anfield and the unique opportunity that gives us to stay at Anfield" enthused Werner. "We are optimistic that we will realise our plans for the expansion of Anfield and look forward to the next step of the planning process."
With plans for a new stadium under the previous regime scrapped by Fenway Sports Group, the crux of the regeneration plan would see a new Main Stand built as well as the Anfield Road End to increase the capacity of the stadium and allow the Reds to not only better compete financially with their wealthier rivals but also add money to the coffers in compliance with UEFA's Financial Fair Play rules.
Not only that, the neighbourhood itself will receive a makeover with a number of projects giving the area a much needed facelift. "The signing today sends a very clear message to the people of north Liverpool and the wider city: a brighter Anfield is coming" said Kathy Cowell, head of Your Housing Group.
Sounds like a win – win situation.