Norwich City Buildup: Adams Stays Defiant, Turner on Stayin' Alive and Ruddy Gets Inspired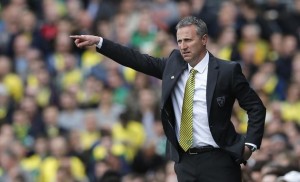 After losing 1-0 to Premier League strugglers Fulham, fellow relegation rivals Norwich City are facing an extremely tough tail end to the campaign. Neil Adams side will have to navigate fixtures against the likes of Manchester United, Chelsea and Arsenal before the points are tallied up, but first off they'll play host to league leaders Liverpool on Sunday in a fixture that only one team will be relishing.
Although Reds captain Steven Gerrard made a point of explaining what a difficult match this is going to be for his side, with the Anfield outfit scoring goals for fun, and the Canaries conceding them without even an ounce of humour, things could get very gruesome, very quickly at Carrow Road this weekend. Adams side sit a mere two points clear of the relegation places — something that could very easily change come May.
"At Carrow Road we are guaranteed a full house," said the still wet behind the ears Norwich boss following the loss to Fulham. "You have seen the support we got today and we will get that again. I have played in games where we have beaten big teams there and I have seen games where Norwich have turned over the form book" he continued, obviously referencing this weekend's match with the Reds.
Adams may not have been in charge when Luis Suarez single handedly dismantled the Canaries during the reverse fixture at Anfield, though his memory does seem a touch selective when expounding on the scalps his side have earned. Liverpool and the Uruguayan in particular have enjoyed their trips to Carrow Road a bit too much; still, the Norwich City boss remains defiant. "We have got four hugely difficult games against top-class opposition. We have got to go out there and pick up as many points as we can" he said. "We know we have got to get some points. Thirty-two won't be enough – I am pretty sure of that."
Despite the task at hand, defender Michael Turner has echoed his managers sentiments and believes his side can keep the Premier League dream alive. "We've shown in the past we've played some of the top teams and done well against them, so there's no reason why we can't do that again," said the 30-year old. "We will give all we can in these four games. People have written us off – so we can go into them and give our all, leave nothing behind, and go from there."
Despite controlling long swathes of the match, the 1-0 reversal at the hands of Fulham — the clubs closest chasers in the relegation battle — didn't quite come as a shock. The result left the Canaries winless in their last three matches, and with the distinct feeling that if they're going to get anything out of Sunday's meeting, it'll be nothing short of a miracle — one that 'keeper John Ruddy, is looking to the opposition for inspiration on how exactly to pull it off.
"What it says to me is not just how driven and how focussed, not just Steven Gerrard is, but how he wants the rest of his team to be that same way," when asked about the determination of this weekend's opponents. "How much do you want to play next year in games against Liverpool, Man United, Chelsea, Arsenal? Because if you don't put in the performances in these last four games, it's not going to happen."
With the bottom of the table as tight as the top of the table, pretty much anything can happen in the closing days of the season with a handful of teams easily able to go down, and no less than three able to claim the title. Sunday could be a springboard for a one and another shovel-full of dirt for another. I'll leave you to decide which is which.
–Steven