Raheem Sterling Not Sweating Chelsea Clash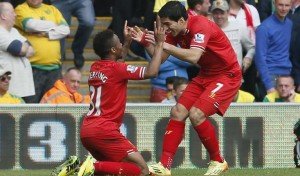 A pair of Raheem Sterling goals sandwiched Luis Suarez's 30th strike of the season as the Red machine rolled on with a 3-2 victory at Carrow Road on Sunday. With Norwich City well and truly out of the way, the focus shifts to this Sunday's potential title deciding match with second placed Chelsea and what could very well be the defining moment of the Merseysider's season.
As Liverpool go in search of their first title of the Premier League era, the meeting with Jose Mourinho's men looms large for not only the supporter, but the players as well. Although the fragile heart of the punter may not be ready for what's just over the horizon, Sterling isn't about to sweat it — for him, it's just another match. "We're definitely prepared for what is coming this week," the winger said coolly in the build-up to Sunday's clash. "Everyone in the changing room is really up for it. This is a really big part of the season and we will just go in there to fight again."
His brace against the Canaries swelled his goal tally to nine for the season and only furthered his case for a spot on the plane for this summers World Cup in Brazil; despite all that, he's not about to get ahead of himself. "We will just take it as another game. We won't concentrate too much on what is happening outside as we just want to take care of what is going on on the pitch" explained Sterling. "We come in every day, we see each other and we know what the dream is. We are keeping each other modest."
Pundits and players alike have spent the vast majority of the season playing down Liverpool's chance of claiming their first title in 24-years, but with three matches left to play, the possibility is as real as it's ever been. "There is a real goal at the end of it. We just have to keep our head down, keep working hard and concentrate on the weekend" continued the 19-year old. "We will just go into Chelsea and try and do what we did against Norwich." If what they did against Norwich was get three points, no one will complain if that's exactly how things play out.