Chelsea Build Up: Mourinho Does a Dangerfield, Oscar Enjoys a Break and Cahill Looks to the Past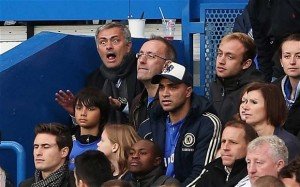 There's always such an inordinate amount of media coverage in the buildup to big matches that the actual football itself rarely lives up to the hype. Thankfully, that hasn't been exactly true of Liverpool this year, or, historically, meetings with Chelsea either.
The two sides have played out some seriously memorable matches since the Blues began their rise to prominence in the early 2000s and a series of Champions League encounters have turned this fixture into a full blow rivalry. The Brendan Rodgers – Jose Mourinho connection always makes for a decent sub-plot, but with the two sides neck and neck in the race for the Premier League title, you would think that'd be the focus, but the Blues boss isn't having it. The Champions League is — on the surface anyways — all important.
After playing out a scoreless draw with Atletico Madrid in the first leg of their semi-final encounter, Mourinho told the press that he may field a weakened team at Anfield this Sunday. Forget the fact that they're only five points behind their Red rivals with three matches left to play; it's Europe or bust.
Although this may be one of the Portuguese managers famous little mind games, he's incensed that insinuations are that he's conceding the title to the Reds. The way he sees it, they're just following their European dream. "I think Chelsea fans would like Chelsea Football Club to be respected and to get the respect Chelsea Football Club deserves" he fumed. "They know what Chelsea did, not just for Chelsea Football Club, but also for English football." At first glance, you'd think he was talking about inflating transfer fees and turning press conferences into circuses, but that's not it at all — it was the Blues record in European football that has him all hot and bothered.
"In the last 10 years, Chelsea was the most important club in this country, defending this country in European competitions" he continued. "It's the last club to be European champion, it's the last club to win the Europa League, it's the club with the record of presence in semi-finals and Chelsea fans think Chelsea deserves more respect than Chelsea is getting." In his Rodney Dangerfieldesque rant, Mourinho has likely forgotten that both Liverpool and Manchester United have both won the Champions League in the last ten years as well as appeared in two finals themselves.
While the Geriatric One fumes about Europe, he's keeping his hand close to his chest and speculation is rife that all his talk of fielding a weakened team is a bunch of baloney. Regardless, there are a few changes that will likely be made with both Frank Lampard and John Obi Mikel ruled out of Wednesday's semi-final second leg at Stamford Bridge, they're both likely to come in to the side — something that suits Brazilian playmaker Oscar just fine.
"Last season I played so many games and it has been the same this season as well. Sometimes it is better to be on the bench and to play the second half" said the 22-year old. "If I start and I play 70 minutes before being changed that's also okay because of the amount of games I have played."
Although he's experienced a dip in form as of late, the 22-year old has been an important part of Chelsea's stuttering attack this season with double the goals of Fernando Torres. Lampard will likely be taking Oscar's place in the side with Mourinho undoubtedly wanting to keep the Brazilian fresh for their impending meeting with Atletico. The same could have very well been said for defender Gary Cahill, but with John Terry injured, the Englishman is likely to pull a double shift and run out at both Anfield on Sunday and Stamford Bridge a few days later.
The Chelsea captain isn't the only one out injured with both first choice 'keeper Petr Cech and striker Samuel Eto'o sidelined as well, but Cahill believes that the Blues will cope with whatever obstacles are thrown their way. "It is a huge blow to lose so many players," he said. "We look back at how we coped with a similar situation on the way to winning it [the Champions League] in 2012 and it gives us confidence. It's never ideal to lose players but we have the squad to cope with it."
Should Mourinho make wholesale changes as planned, even Chelsea's B-team is expected to be on a whole more expensive than Liverpool's first team — even if they're not quite up to par. Hopefully the Portuguese manager doesn't have too much trouble coping with that.
–Steven