Ayre Delighted to See Liverpool Back from the Brink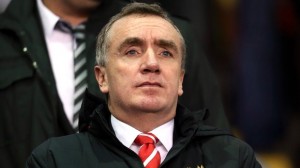 With plans for the proposed redevelopment of Anfield on the table and moving along swimmingly, Liverpool Managing Director Ian Ayre has spoke of his delight at not only seeing the club back in a financially stable position, but progressing on the pitch as well.
"It is no secret. It's like that TV programme, Seconds from Disaster – we were sort of in that vein. It was horrific to see the football club in that state" he said of the final days under the troubled regime of Tom Hicks and George Gillett. "I do not think there was a Liverpool fan in the city or anywhere who was not worried we would not get back to this position." It took a lot of hard work, but it would appear that we're finally here.
With Champions League football for next season already secured and a tilt at the title very much alive, there isn't a single sane person on the planet who would argue that the Reds aren't in better hands now. "As one of the few people who was here with the last ownership and through this one, I can say the club is in a fantastically sustainable position now and that's down to the people running it in the best interests of the club, not the best interest of the owners" he continued empathetically.
With a number of lucrative commercial deals bumping revenue and a more than one shrewd financial decision giving the club far more breathing room, things finally look to be getting back to normal on Merseyside. "We're one of the biggest shows in town at the moment in football, playing great football, and everyone is excited. Hopefully we can capitalise on that" enthused Ayre. "The success on the pitch means we can capitalise. Rather than the club shop not being open when we've won something, we'll have club shops all over the world all open."
Get money, get paid.