Liverpool (0) Chelsea (2): It's Out of Our Hands, But We'll Keep Reaching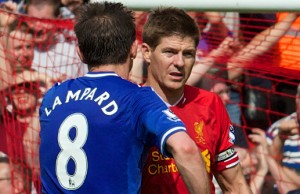 We're not used to chasing the game, are we? Liverpool show their relative inexperience, and lack of depth from the bench, as second placed Chelsea run out 2-0 winners at Anfield in what was a supremely frustrating match for anyone with even a glimmer of hope that the Reds will end the season champions.
Despite the less than full strength squad named by Blues boss Jose Mourinho, the compact nature of their side and the patience in their game stood in stark contrast to that of their hosts who, after missing more than one opportunity to get off to their now trademark blistering starts, looked a bit more than lost when the 20-minute mark rolled around and they weren't at least a goal ahead.
Even a word of criticism for captain Steven Gerrard is a word too many; the skipper has been a massive figure for the Anfield outfit this season and his slip-up to hand Chelsea a late first half lead through Demba Ba can be put down to nothing more than the baddest luck of the highest order.
To be fair, Liverpool should have been ahead in that old familiar way by then, but, even with the dominance and possession we've all come to expect from the Brendan Rodgers brand of football, the usually clinical Reds were unable to capitalize with Philippe Coutinho and Mamadou Sakho missing what were the most inviting chances to fall the hosts way in the opening half.
It was a showpiece of a some of the dark arts of the Premier League with time wasting a prominent part of the plan, but seconds here and there does not a match decide. Using a tactic that served us well during the Rafa Benitez era, Mourinho set up his side to frustrate rather than venture, and with a five man midfield doing everything they could to protect the back four, clear cut chances — the kind we're using the seeing the Reds create with concise, probing passes — were next to nonexistent.
Instead, we were pushed wide, whipping crosses into the box that were never going to find their target without a fair bit of luck or the mistake that never came. Reduced to mainly long range efforts, Liverpool never looked much like scoring. Even the second half introduction of Daniel Sturridge did little to nudge the double XL bus off to the side with the best chance falling to Joe Allen, whose volley was expertly palmed away by a diving Mark Schwarzer.
The desperation was beginning to show when Iago Aspas — always a peripheral figure around Anfield since arriving from Celta Vigo over the summer — was thrown into the fray. It's hard to criticize the Spaniard for looking off the pace with his last Premier League appearance coming long before I cared to even make an effort to look it up and give it a fair mention.
With Champions League football for next season already secured, Rodgers will be looking for an upgrade in that department come the summer, but that search will bring little solace in the interim, nor will it erase the memory of Fernando Torres unselfishly playing in Willian to slot home Chelsea's second in the last minute of injury time.
Manchester City's 2-0 win over Crystal Palace today means the title is out of our hands, but it doesn't mean the race is over at all. We still have a job to do — six points from our last two matches is crucial. Maybe we didn't show our credentials by beating the Blues today, but we can certainly show it by picking ourselves up and doing absolutely everything we can to make sure we're in it until the bitter end.
We take a deep breath and then we do it all again. We're going to Crystal Palace a week from today and that's where our focus — speaking, at this point, for both the players and the supporters alike — needs to be.
–Steven