Suarez Snags Football Writers' Association Award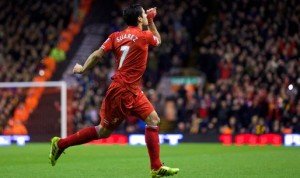 After wrapping up the Professional Footballers' Association Players' Player of the Year award last week, Liverpool striker Luis Suarez is at it again — this time snapping up the Football Writers' Association Player of the Year gong.
The Uruguayan, who has snagged 30-goals and 14-assists so far for the Reds this season, was the obvious choice garnering an reported 52-percent of the vote. When you take into account that 400 some-odd journalists cast ballots, the feat becomes that much more impressive. Suarez edged out fellow team-mate and previous winner Steven Gerrard, who finished second in the voting, and the half man, half machine that is Manchester City's Yaya Toure to become the third player on the bounce to claim both the PFA Player of the Year and FWA Player of the Year in the same season.
Last year, former Tottenham attacker Gareth Bale did the honours after Suarez, who was hotly tipped to make off with the prize, decided to take a chunk out of Branislav Ivanovic and ruin his chances of claiming it. It's rumoured that the 27-year old picked up only two votes in the wake of that incident — a rather impressive turnaround this season.
It wouldn't be a Football Writers' Association award without some flowery oratory, and in the wake of the announcement, FWA chairman Andy Dunn lived up to the hype. "Tireless endeavour allied to extraordinary imagination makes an irresistible combination," he said. "Add ingenious, impudent finishing and you have a footballer who truly quickens the pulse."
Our sentiments exactly.