Napoli Hint at Permanent Transfer for Pepe Reina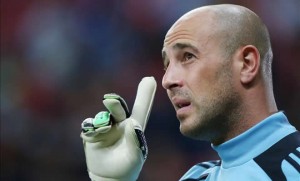 With the season winding down, the rumour mill is about to kick into full swing and the future of Liverpool 'keeper Pepe Reina is sure to be one of the biggest pieces of Reds related gossip as we approach the summer.
The Spaniard, currently on loan at Italian side Napoli, has remained coy on his future throughout the year and although he has said he'd prefer to stay with former Liverpool boss Rafa Benitez in Naples, he's admitted that he's not quite sure where his future lies. Rumours continue to persist that Atletico Madrid will look to snap him up in the summer, but Napoli's sporting director Riccardo Bigon has also expressed an interest in making his move permanent.
"He is a very important player on and off the field. We cannot do anything but wait for the end of the season to talk with him and with Liverpool" the Italian told the press. "The club is interested in keeping him." Reds boss Brendan Rodgers has pulled no punches when quizzed about Reina's future on Merseyside and he could look to quickly wrap up a deal to get the expensive goalkeeper — who still has two years left on his contract — off the books.
"He is a player who has been good here, that has a very close relationship with the Coach and also his family have settled very well" continued Bigon. Reina cited the chance to work with former Reds boss Benitez again as one of the primary reasons for his move and the Spaniards looked to be up to their old tricks once again as they picked up their first piece of silverware in Italy last week with a 3-1 win over Fiorentina in the Coppa Italia. If Benitez gets his way — and he usually does — Reina's stay in Italy could be made permanent very early in the window.