Raheem Sterling on Young Player Gong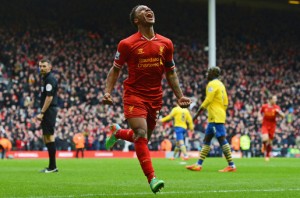 We think it's pretty safe to say that Raheem Sterling is going to the World Cup. With the final match of the season looming this Sunday, the youngster reflected on what can only be described as a breakout season for him when he was named Young Player of the Year at the inaugural Liverpool Players' Awards Dinner.
The 19-year old looks to be a shoe in to England manager Roy Hodgson's final side after racking up an impressive nine goals and five assists this campaign to truly announce himself on the scene. "It means a lot to me," an ecstatic Sterling told the club's official website. "I've tried to work as best as possible this year and I'm really glad the fans have seen that and voted for me." To be fair, it'd be hard to see anyone else picking it up.
While the Reds are stocked with young talent, Sterling has really stepped up his game and become a vital part of our attacking set-up. "I give credit to the other lads, they've been great this season as well, but this is a real massive achievement for me" he continued. "This year has been a real learning curve for me; not being in the squad at the start of the season and having to wait for my chance."
With the World Cup just over the horizon and Champions League football on offer for next season, the youngster will have plenty of opportunities to show exactly what he's made of on some of the biggest stages in football. "I've just taken things as they've come and I've learnt a lot" explained Sterling. "I want to keep progressing and keep learning day in, day out and add more things to my game."
At a mere 19-years old, he's got a lot of learning — and a lot of progressing — ahead of him; and that's something every Liverpool fan will be looking forward to. If he's this good now, just wait…