Rodgers Relishing van Gaal Challenge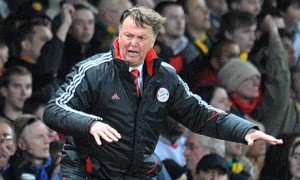 With the David Moyes era very much over at Manchester United, Liverpool fans everywhere sat with a bemused sense of interest as the Old Trafford outfit waited to announce who would succeed the Scot in the hot seat. With the appointment of veteran Dutch manager Louis van Gaal confirmed yesterday, Reds boss Brendan Rodgers has spoke of his excitement to test his wits against one of the great minds of the game.
"First of all, it was really sad that David Moyes didn't get the opportunity," the Northern Irishman told talkSPORT. "Obviously with David gone, they were looking to appoint someone with experience and certainly Van Gaal is someone I have studied and looked at for many years. He has had great success and he has a way and a vision of how he wants the game to be played. He works with young players."
Manchester United went from being Premier League champions under Sir Alex Ferguson to a disappointing seventh placed finish last season as his appointed successor failed to last the season. On the other hand, Liverpool went from strength to strength as Rodgers guided his side to not only a second placed finish, but to do the double over their fiercest rivals last season with Daniel Sturridge's lone goal enough to snag maximum points at Anfield before the three – nil drubbing at Old Trafford confirmed that all six points on offer this season were headed to Merseyside.
With a large transfer kitty at his disposal and a wealth of knowledge on how to spend it wisely, van Gaal will be looking to change his sides fortunes sharpish and will be getting down to work right after the World Cup when he will formally take charge. "Certainly his profile fits a club of Manchester United's history" added Rodgers. "As a young manager, I'm really looking forward to working against another great coach in the world game." While Liverpool fans will no doubt be paying close attention to the Dutchman's first few matches in charge, it's unlikely that you'll hear any complaints if he fails to make an immediate impact.