Alberto Moreno: Glorified Jose Enrique or More Than Your Average Jose?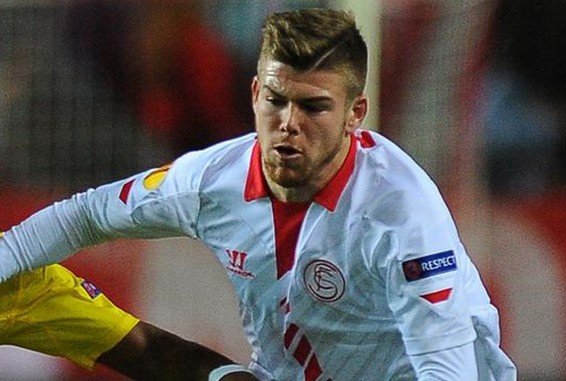 A Statistical Knock-down of Alberto Moreno's Season Compared to Other Liverpool Left Backs
When Aly Cissokho had his moment leaning on a wall at Melwood, not many of us could have predicted that it would end up being his only moment in a (thankfully short) Liverpool career. Aly Cissokho, in his short loan stint, couldn't make any significant waves and after having succeeded in making Liverpool fans beg and pine for Jose Enrique to return at left back all season, the management is finally looking to purchase some quality for that position this time around.
"Silly Season" has its range of claims for a team's 'Primary Targets' and if you believe the bigger journalists and the more 'trusted' papers when it comes to Liverpool transfers, the man on top of Liverpool's 'Secret Transfer List: Left Back Edition' is a boy from the Andalucian outfit in Sevilla and goes by the name, Alberto Moreno Perez.
The buzz around is that Liverpool F.C. is willing to invest a sizeable €20 million of its rumoured transfer kitty in order to secure young Alberto's signature. So, the question that matters here is, is he really that good?
Let's take the statistical route on this question — with a little help from Squawka.com — and see where that leads us. For the sake of reasonable comparison, we'll break this down into two segments. The first being a statistical comparison with what we already have/had in terms of personnel recently and the next being a comparison with the other fullbacks on his side seemingly open to a move this window.
Alberto Moreno vs. The Liverpool Left Backs
Two simplistic considerations here, when preparing for analysis are, firstly we take into consideration Enrique's 2012-13 season owing to him hardly kicking a ball this season and we use Per 90 Metrics if we are to put Cissokho's season into perspective considering a huge chunk of his games were down to substitute appearances and he hardly had any games at all.
One can argue that lack of game time meant he hardly settled into any game, to be able to produce better numbers, but that he was subbed in as a 'settling presence' when Jon got  a wee bit too enthusiastic, make at least his defensive stats relevant. Thus his presence in this analysis matters even if it is in part.
Defensively:

Interceptions, Blocks, Tackles Won

Now, as you may have noticed, Alberto is better than all our left back options on two counts out of these three. Aggregating less than half of Jon's tackle win rate isn't quite telling either, if you were to consider most of Alberto's game is either intercepting the ball or blocking a shot/pass.

That happens if you're Spanish and tackling, as is often the case in La Liga, is seen as a last resort. Also, if you were to intercept early or wait to block when the player with the ball made their final move, the tackle rates don't generally end up too high, since they're preventing the need to even attempt a tackle. The plot thickens. When you look at the flip-side stats here, you realize something's a miss.

Tackles Lost, Clearances, Fouls Committed

Now, young Jon obviously loves a tackle so he attempts a total 6.14 every 90 minutes and ends up losing out on more than half of them, but what was a surprise is that Jose's tackle rate is actually a shade lower than Alberto's and Alberto loses more tackles than he wins, while Jose is phenomenal when it comes to his tackle win percent.

Aly Cissokho is boss when it comes to clearances, Jon pushes in second and Jose and Alberto are within inches of each other but look at what the foul stats say, Alberto and Jon commit almost similar numbers per 90 minutes. Cissokho shades them both and Jose causes only half as many problems as Alberto when it comes to committing fouls.                                                     

So far, we've seen Alberto and Jose seem fairly equally efficient. One decides to do it on the tackle and the other manages to intercept and block his way out even though his tackling isn't all that great.

If at all a differentiation can be made thus far, it goes on the basis of fouls committed where Jose does ever so well in comparison.

Total Duels, Aerial Duels Won, Defensive Errors

So, I pulled up a range of roundup stats hoping to break what seems like a defensive skill tie, the results were quite surprising. Aly Cissokho is boss in the air and Jose loses out to Alberto by a good 10% on attempted aerial duels. Alberto simply wins 10% more than Jose does but good old Jon is holding his head high, quite literally, pushing Alberto on that stat.

So then we look at the Total Duels percentage to realize Jose is still ahead by a mile owing to better performances with the ball on the ground. Cissokho records better stats for total duels percentage than Moreno every 90 minutes and Jon and Alberto are at par. 

For Jose, low aerial duels win % combined with a very good total duels win % means he attempts to win it on the ground more and does a very good job of it. Alberto, on the other hand, does equally efficiently in the  air as on the ground but overall, Jose gets the job done better.

In terms of defensive errors (still not quite sure how they quantify a defensive 'error'), Cissokho obviously gets little wrong as opposed to the others because the others have played more and have had more scope for errors. Yet, Jose and Alberto come out as equals on this count as well, which again makes one think, did Jose shade the Defensive Stats overall? In a manner of speaking, yes, he did, but we'll look at it more closely in the round-up.
Possession and Passing

Ok, we're into the real deal now. Well, sort of, at least. "A Rodgers Defender Must Pass" is one of those 'Gandalf-esque' statements doing the rounds well over the past year now, and while there can be a load of counter arguments to it being a pre-requisite for our transfer activity, there is no doubt that Brendan likes a player who can build from the back. So, where does that leave Moreno? Let's find out.

Just to re-iterate the previous considerations, 'Per 90 Metrics' does the obvious job of mitigating substitute performances reducing one's numbers when seen in 'Totals' or 'Average Per Game' stats, so we'll keep it at that here.

Total Passes, Pass Completion Rate, Average Pass Length

'Does he pass most of the time? He Must be Spanish.'

While this seems to hold true for Jose Enrique, Alberto ends up on the opposite end of the comparative spectrum. 20 passes differentiate Alberto and Jose every 90 minutes. Cissokho's stats are comparable to Moreno's and young Jon does decent too.

Then again, this is Jose's first Rodgers season we are talking about so, the spike may well be accounted for by the shift in philosophy and could include a sizable quantity of passes of a smaller range and backward ones. Hence the completion rate becomes important along with the average length (logically longer passes have greater chances of getting intercepted or botched).

Average pass lengths seem to be in sync with minor differences here and there, yet there is a decently sizable 3% difference between Jose and Alberto's pass success rates. Now generally, a higher number of passes doesn't necessarily mean that one makes more mistakes and hence the success rate will be low (as I said a lot of these passes might be shorter or backward ones).

But over a range of 1285 odd passes (Jose's total passes) as opposed to 820 odd passes (Moreno's total), the 0.7m difference in avg. pass length might be more telling. On the same basis however, Cissokho does decent but Jon does decently well considering he played a position not completely natural to him. The first two numbers (Total Passes and Pass Completion) both favor Cissokho and Jon, in comparison to Moreno's but both have played lesser games and both have a sizably lower avg. pass length to Alberto's and more so Jose's (whose performances in the same system of play are statistically considerably better so far). But wait! There's more to possession than numbers and length.

Total Forward Passes, Chances Created

So a number of round-up stats on the passing segment end up with us re-living the reason as to why we end up frustrated with Jose most of the time. He does indulge in a good round of forward passes but creates comparatively few chances all around because of poor decision making.

Now, in comparison, Jon and Cissokho don't do better but it is a little disappointing to see Alberto's numbers not being any drastically better. But if you were to dig deeper you'd see Jose's 'Key Passes' stat drop to 0.88 whereas Moreno's numbers stick to 0.71 Key Passes. Now to put things into perspective, Jose fires in almost 40% more forward passes (not necessarily crosses or chances) than Alberto each game but creates only marginally more in his Per 90 Metrics in terms of Chances/Key Passes.

So to calculate 'Efficiency' for Jose and Alberto through this round of stats, we try to see how many forward passes culminate into a chance for the duo by seeing the ratio formed between the two stats. Alberto needs an approx 27 forward passes to see 1 chance created and Enrique sees a chance created by every 31 of his forward passes. So, while Alberto's stats are marginally better, they're not really a massive upgrade at least right up front.

The next segment, which will be about attacking play, will draw from this segment as well, so you'd do well to keep this at the back of your mind.
Attackwise

For most folk out there, these are the stats that matter. So, instead of trying to break them down into Per 90 Metrics (it'd be weird to see stats like, 0.1 assists per 90 minutes) we'll work with the Totals here.

Key Passes, Goals Scored, Assists

Alright, 29 games: 3 goals and 0 assists might make for scary reading unless you realize that Assists are not fully down to oneself. Sevilla's Bacca and Gameiro are good finishers but I'm pretty sure Alberto would rather have Luis and Dan Sturridge at the end of his passes.

It was a little essential to draw up those key passes stats to give you a fairer idea on the Assist factor. But if it comes down to goals, it isn't like Alberto is setting the world alight just yet. Yet neither are bread and butter for a fullback but fairly necessary plus points for a world class fullback.

Jon's statistics are perhaps a fairer indicator of his play up top which has been decent but far from the work of a world class or international class fullback. It's fair enough, he's just 21, but then again so is Alberto. Aly, well, lad you'll get a chocolate bar for your trouble! Fair play to him, he didn't play much to set this stat alight and even the solitary assist on display here was a belter of a header, far away from goal by Luis. Yes, THAT header!

Fouls suffered, Total Shots and Shots Inside Area

Alright then, moving back to 'Per 90 Metrics', we look through the last stat chart for the day as we look at how many fouls our fullbacks here face every 90 minutes.

Now, these of course are fouls suffered all over the pitch but you have to admit, as to how important these can be when you're firing up the pitch or defending for your life. This particular stat gives you a fair idea of the trickier customers out there and Alberto easily wins this one. The Total shots bit gives you a fair idea of how many attempts on goal are made each game and again Alberto and Jose are within inches of each other but above the others in line.

The shots from inside the box is a stat I took into consideration in order to get a better relational line to bank on when it comes to their attacking play. As has been the feature of this entire analysis, Jose and Alberto end up neck and neck.
The Roundup
Overall, through this stat specific round of analysis, you get the idea that Alberto is a good defender who needs to improve a little on his tackling. On paper, he's someone who has well rounded features defensively, is confident playing passes and overall has a sort of direct, yet decently efficient approach, to attacking plays. Still, the big reveal here is that he isn't exactly an out and out, clear upgrade on Jose Enrique as per these stats — at least not just yet. There are a few things, however, that cannot be explained by statistics; for instance one's decision making, positioning and quality of shots/crosses/chances created or for that matter, game instinct. And on these matters, the boy is keenly gifted.
These factors aside, the stats do give us a fair idea of what a player's season long performances can allow us to expect from them at the bare minimum. These stats are very good references when you're partially unaware of a player's instinctive game over the course of a season and are especially useful establishing hopeful optimism when they're switching leagues.
Now, to put things into clearer perspective, let us realise at first that we're talking about a 21-Year old defensive player who has a little more than a year's experience in top tier football and yet is the buzzword around Spain with a lot of top clubs looking into him. Madrid and Chelsea have also been linked to Alberto and that is no coincidence, rather a testament to his ability and potential. In this article, we've compared him to an English 21-Year old and two experienced defenders. He comes out barely shading Jose Enrique overall, but Jose is a player who has moved beyond the normative age of possible growth as a player and is as experienced as they come.
My indecision in branding Moreno a good buy for the rumoured amount of €20 million and maybe even one of our players is also laid partially in the statistics put on offer by the other European value fullbacks out in the market this window, particularly one of a similar age, something I wish to bring to light in the second part to this statistical breakdown where I will be comparing, Alberto to the rest of his fullback peers linked with moves this summer.
It's not really as easy a question as many of us think, but would you put your faith into Alberto Moreno for our Left Back spot?
Watch this spot for the Second Part to this Post which will be up soon. Do leave behind your views!
–Rahul
Thanks again to Squawka for providing all the stats for this article.