Malaga Close in on Loan for Liverpool's Luis Alberto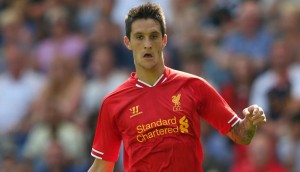 It's been a strange year for Luis Alberto; after switching Seville for Merseyside last summer in a deal reportedly worth £6.8mil, the utility man — called so since no media outlet can decide exactly what position the youngster plays — looks to be headed back to Spain with reports suggesting a year long loan to La Liga outfit Malaga is on the cards.
The 21-year old made nine appearances from the bench last season as Reds boss Brendan Rodgers guided Liverpool to a second place finish behind eventual champions Manchester City. With European football secured for next season, the Northern Irishman is looking to expand his squad with quality additions this summer, but rather than take a punt on the young Spaniard, it appears the Anfield boss thinks he'd benefit from a year out on loan with his first team opportunities likely to be limited on Merseyside.
Alberto is no stranger to the loan market having spent a season away from Sevilla at the Barcelona B team during the 2012/2013 campaign, but while he moved to Catalonia to develop, the mood is a little bit more ominous this time out with the youngster expected to rack up minutes at Malaga or face an uncertain future at the end of the campaign.
According to Seville media outlet Estadio Deportivo, Liverpool have already consented to the loan and it's only a matter of time before the 21-year old returns to more familiar surroundings. With Malaga close to the youngster's hometown, this could be the exactly what the youngster needs to get his head straightened out and his development back on track.