Suarez's Latest Controversy Isn't as Simple as That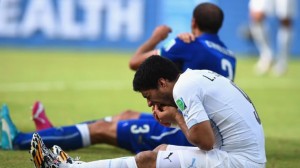 I suppose it's not only easier, but it makes for better press, to just assume the worst; although he failed to comment on it directly after the match, it looks like Liverpool striker Luis Suarez has dove head first into yet another biting scandal after claims from Italian defender Giorgio Chellini that the Uruguayan took a chomp out of him during the Azzuri's 1-0 loss to La Celeste yesterday was backed up by some inconclusive video evidence.
The expected imaginative word play and plethora of recycled internet memes have followed in it's wake while the holier than thou types reluctantly jump on their soap-boxes to not only condemn his actions, but call on his sponsors to drop him before a decision is even made by FIFA. Football's world governing body is launching an investigation of the evidence to see if a retroactive punishment — or any further discussion — is even warranted, but the consensus of the general public is already in and there's little surprise that mob mentality has ruled him guilty as sin.
That's of course not to say that he's innocent; this is neither a condemnation of his alleged actions or an attempt to brush them off and pretend like this didn't happen. Let's be honest — had the two previous incidents not happened, this easily becomes a 50/50 argument that no one is ever going to conclusively win. Unlike the Branislav Ivanovic footage, every angle I've seen the alleged bite from is far from cut and dry. There'd certainly be a conversation to be had if Suarez's record didn't proceed him, but that's obviously not the case.
I'll go out on a limb and court those of you who'll call me a victim blamer, but could Chellini not be lying? If Suare'z intense desire to win and anger issues can give a nod towards a rudimentary explanation of his repeated biting offences, could that same burning need to come out on top not have fuelled the Italian to make a false accusation towards a player he knew would be charged as guilty before a trial was even scheduled?
Maybe I'm completely off the mark by even posing the question, but it doesn't seem that like it would be out of the realm of possibility. This, like I said earlier, isn't just an open and shut case. Going under my own heavily biased opinion, it looks like he took a bite; Suarez appears to bury his face in the back of Chellini and the Italian falls to the ground with the Uruguayan, feigning an elbow or a shoulder to the face, following behind him. The defender shows the alleged bite marks to anyone who will hear his story and the striker — once again the central figure in World Cup controversy — plays the victim. Questions of morality aside, if it were this simple, then a ban is in order.
Video by V. Vergo
Although strikingly out of the ordinary, I'll echo my thoughts on the last time this all kicked off and say what he did was no worse than a player who slides in to injure another player intentionally or a head-butt doled out in the heat of the moment. Maybe it's the infantile association with biting that leads some to be embarrassed by the mere thought of it, but no one should be embarrassed except the transgressor; I know I'm not blushing at his actions. If he did it, he's the stupid one — for once in my life, I'm in the clear. While it might, odd as it is to say, be more socially acceptable to use your forehead or your feet as a weapon, when you're answering the question of morality I blatantly dodged earlier, it hardly differs. Nor does it really need to be answered.
If FIFA find him guilty than he should be punished; but unlike the FA, their decision should be made on fact rather than to placate a witch-hunting public. There's a set of rules in place and if he's broken them then he deserves what's coming to him. Whether that punishment will fit the crime or whether they'll bow to public pressure of course remains to be seen, but there will be fall-out from this on both the international and domestic levels of the game. Liverpool, though having nothing to do with this latest bit of scandal, are unfortunately not insulated from it even though it happened outside the Premier League. Any ban or sanction Suarez receives, if found guilty, will affect his international career rather than finding its way back to Anfield, but once again, his tarnished image will be a burden to carry.
The us against them mentality is fine when it comes to rival supporters and clubs, but it's not so easy to carry off when it comes to sponsors and potential investors. The Reds hierarchy have done an immense job of bringing in new commercial partners to drum up much needed capital and though this particular incident may not sour any of those already established relationships, it could be a contentious point in future business dealings. This, of course, is neither here nor there and far enough down the road to disregard for the time being.
He's not even officially guilty yet, is he?
Steven
What says you? Did Luis do the dirty or is this just another witch hunt? If he's guilty, what punishment should FIFA hand out and how does Liverpool react to it? Let me know what you think in the comments section, but keep it civil.