FIFA Opens a New Can of Worms for Domestic Clubs with Suarez Ruling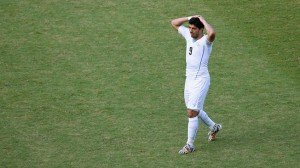 With a landmark four month ban that encompasses both international and club football handed to Luis Suarez earlier today after the Uruguayan bit Italian defender Giorgio Chiellini, the cold, ironic light of reality sets in when you realize that this affects Liverpool — a club that had nothing to do with the incident — more than anyone else.
There's no good argument to defend Suarez's actions; compared to other violent conduct, the bite on the shoulder remains tame in comparison with no real lasting physical effects to speak of, but, with that being said, it's hardly acceptable behavior and certainly deserves to be punished. Though there's little surprise that the ban carries a heavy sentence, the fact that it carries into the the domestic season does give pause.
It also gives clubs — who, let's face it, are the lifeblood of the modern game — extra worry when they release their players for international duty. As much as football is entertainment, it's also a business; clubs are employers and they employ footballers to do a job. In the past, releasing players for international competitions came with the worry that they'd return injured and unable to return to work upon the completion of their stint with the national team. Now, with FIFA's ruling, there's a whole new can of worms to contend with.
If a players actions while not even wearing their shirt of their domestic club can affect that club, then there's a problem. Club allegiances and the almost nonsensical tribalism that can make football so exciting aside, it's absolutely astounding that FIFA can exert so much control over a competition it has little to nothing to do with. It's understandable that they need to protect their own brand — especially to the lucrative causal supporter that really only pays the sport any mind every four years. With that being said, by the time the Jules Rimet trophy is handed out, many of these World Cup warriors won't even remember who Luis Suarez is let alone that him biting someone so upset their delicate moral fabric.
Banned for nine matches for Uruguay? Kicked out of the World Cup? That sounds like an acceptable punishment for an offence committed while wearing the shirt of an international team and participating in an international tournament. Missing, at the very least, nine matches for Liverpool and barred from training with the team or even entering a football stadium? At that point, the punishment is in excess of the crime and hurts a party that had nothing to do with it in the first place. The control that FIFA is exerting over the domestic game borders on totalitarian and could very well have long reaching ramifications down the road.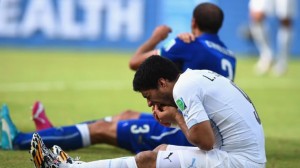 "Liverpool Football Club will wait until we have seen and had time to review the FIFA Disciplinary Committee report before making any further comment" said Liverpool chief executive officer Ian Ayre in the wake of the announcement. While an appeal would likely be met with a generous helping of scorn, how does any club let themselves be steam-rolled? Should domestic clubs now have to worry about their players being banned from domestic, cup, and European competitions as well as training with the team while their players are not even engaged in activity with them? Should their poor decision making while outside of their sphere of influence really come back to haunt them?
And, of course, since the real kicker is that Liverpool is unable to appeal the ban handed to them, should FIFA be allowed to give it in the first place? During his last ban for the same offence, they had no problem with him participating — and playing a large role — in four matches for Uruguay without a thought to his Premier League status. Why, now, does the reverse apply? Is punishment by association acceptable?
Again, this is Luis Suarez's fault and not FIFA's; he bit someone and they did not. Although I have a penchant for expecting the worst from football's governing body — and, come on, Qatar anyone? — there's a real possibility that we'll never see a ban of this magnitude again. Had he raked his studs down the back of someones leg, grabbed them by the throat or head-butted them, there's little doubt that we'd see such an outcry from the media or such a heavy handed response from those in charge, but that's no longer here or there.
With the Uruguayan FA expected to appeal the ruling, there's a real hope that cooler heads will prevail and that Liverpool's unwarranted punishment will be either reduced or removed altogether. At this point, it's unlikely that any club will express outrage at their punishment lest they be associated with supporting Suarez or his actions, but there likely isn't one domestic club that isn't — quietly and in the privacy of their own offices of course — questioning this ruling or how it could very well affect them in the future.
–Steven