Divock Origi Still Hasn't Made a Choice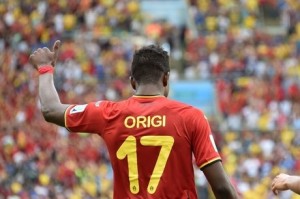 The word on the street is that Liverpool are in advanced talks with Lille over a £6mil move for highly rated youngster Divock Origi, but if that's true, no one has let him know — and if they have, he's certainly doing a good job playing dumb.
The 19-year old has been one of the breakout stars of this summers World Cup, scoring the winner against Russia en-route to Belgium dropping out at the Quarter-Finals following a 1-0 loss to two-time champions Argentina. A host of clubs have been linked with a move for the budding striker, but the Reds look to be in pole position for his signature with a promise of loaning him back to the League One side for next season apparently putting them over the top. Or, at least that's what we think.
Earlier in the week it was sounding like Origi would be completing a medical at Melwood by the end of the week, but his recent comments have put a damper on that particularly optimistic time-frame. "I'm still thinking to make a choice," Origi recently told Belgian media outlet TV Limberg when asked about his future. "I've got offers from all over Europe. In 1 or 2 weeks we'll know more." That certainly doesn't sound like a player about to jump ship, does it?
Liverpool boss Brendan Rodgers looked set to add the 19-year old to his already impressive roster of young talent, but if his comments are to be taken at face value, there could very well be a delay on that. Maybe he's just clamouring for some much needed vacation time before making the switch? Ian Ayre might want to get on a plane with some Euro Disney passes ASAP…