Mauro Icardi's Representatives Deny Liverpool Inquiry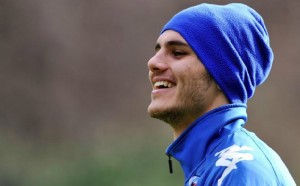 As time continues to tick down in the transfer window, Liverpool continues to be linked with a host of strikers as they look to find a world class striker to replace Luis Suarez.
AS Monaco striker Radamel Falcao, as well as Paris St. Germain pair Ezequiel Lavezzi and Edinson Cavani have all been heavily linked with a move to Anfield, but the latest striker — one who appears to be a little more up our alley — is promising Inter Milan attacker Mauro Icardi. The funny thing is, unlike the much more prestigious and expensive players mentioned earlier, the player's representatives are playing down a move to Merseyside rather than talking it up.
Letterio Pino, who works closely with the player's agent, has denied that the 21-year old is bound for Liverpool despite reports of a £16mil transfer being in the works. "Neither I nor Abian Morano, the player's agent, have ever had any contact with the English club," he told Italian media outlet Sportitalia.
The press, obviously, thinks otherwise despite trying to pair the Reds up with any striker that just might have a pulse. Inter have apparently slapped a £28mil price-tag on the Argentinian attacker — a fee that Liverpool would likely be reluctant to pay — but considering the Italian side's financial woes, the Anfield outfit could very well find some wiggle-room in there should they want to play ball.
Or, you know, if they're even looking at Icardi in the first place.