Sunderland Still Waiting on Fabio Borini Answer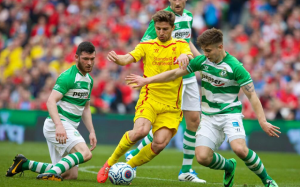 Despite agreeing to a deal that could rise to £14mil in the near future, Sunderland are still in the dark over the future of Liverpool forward Fabio Borini with personal terms yet to be discussed between the two sides.
The Italian, who spent a successful loan spell on Wearside last season, looked set to join up with the Black Cats after months of negotiations finally saw the two sides come to an understanding, but an injury during the Reds pre-season tour of America and what appears to be a staunch unwillingness to play ball has put the breaks on the deal. Even though it would appear that the 23-year old is stalling in the hopes that a better offer might come his way, Sunderland boss Gus Poyet remains hopeful that he'll still end up at the Stadium of Light.
"We're waiting but there's nothing I can tell you because there's no more than last week, no less than next week probably," said the Uruguayan when asked for an update following his sides 2-0 win over Real Betis last night. "It's still ongoing. The longer it goes we have to look at other options because that's my job. But every time you are about to make a step forward (with another target) you stop because you still want Fabio. I cannot happen that we are left with nobody. I am working very hard to get the rest of the players we need."
Although Liverpool are in the market for another striker following the departure of Luis Suarez to Barcelona early last month, it appears that Borini isn't quite the calibre of player that Reds boss Brendan Rodgers is looking at. Moves for the like of Radamel Falcao, Edinson Cavani, Ezequiel Lavezzi and Mauro Icardi have been kicked around in the press, but the Anfield outfit have yet to submit an official bid for any of them.