CONFIRMED: Liverpool Loan Joao Carlos Teixeira to Brighton and Hove Albion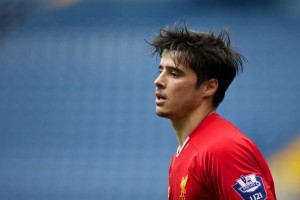 Following a brief loan spell to Brentford last season before finding a very small measure of first team action, Liverpool midfielder Joao Carlos Teixeira has been loaned to Brighton and Hove Albion for the upcoming campaign.
Reds legend Sammi Hyypia, who also has eyes on a loan for fullback Jack Robinson, took over at the Seagulls last month after parting ways with German side Bayer Leverkusen last year. "The reports I have seen are very positive and my former colleagues at Liverpool have told me he is a very bright young prospect" he told the press after the deal was confirmed. "We still plan to further strengthen the squad ahead of the deadline."
The 21-year old could very well get a run out for his new side today when they face Birmingham City in their second match of the season. Sheffield Wednesday midfielder Giles Coke scored the only goal as the Big Finn was handed defeat in his first competitive outing as Brighton boss, but a 2-0 win in the League Cup over League two side Cheltenham Town helped assuage the less than steady start.
While they looked pretty solid at the back, going forward appeared to be a bit of a problem for the Seagulls, but the signing of Teixeira should help that. "Joao is an attacking player who likes to be on the ball and do his best work in the final third of the pitch," continued Hyypia. "I hope he will bring that extra edge to the team and our play and give us an extra dimension."