West Bromwich Albion Preview: Another Bite at the Apple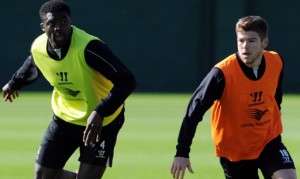 By this point last season, we had nothing but the Premier League to focus on until the FA Cup rolled around in the New Year. Listening to opposition managers chalk up our immense league form to a lack of European football sounded more like sour grapes than a fair analysis at the time, but we're starting to remember how difficult it is to play two matches a week.
Woe is not us and there's no pity on offer — top clubs play in the Champions League and they cope with it week in and week out. Following Wednesday's disappointment in the Champions League, one would think that Liverpool will be well motivated to bounce back when West Bromwich Albion visit Anfield later today, and though that may very well be the case, there's been precious little time to shift our focus and prepare for the inevitable challenge the Baggies always pose.
We may have brushed them off rather easily in this fixture last year, but you don't need me to remind you that this season's incarnation of the Reds is vastly different than the one that downed then boss Steve Clarke's side by a more than comfortable margin. Liverpool boss Brendan Rodgers doesn't need me to remind him either — he's well aware of it.
"It must be so difficult at the moment to see a team that for 18 months has been so fluent and dynamic. Now they probably look and see a team with maybe no resemblance to that in many ways. I understand that and there is no one more frustrated than myself" the Northern Irishman told the press in the buildup to the match. "We look at our game, which is based a lot on possession, but we're also a big threat in transition when we've won the ball back and we're on the break. We don't look a threat on the break at the moment. You could argue that we don't even play in transition. We're getting no one in behind. No one is breaking lines."
Not only are the Reds without a win in their last three matches, they've only beaten Alan Irvine's side once in their last five meetings. Couple that with their ongoing problems from set-pieces, inability to keep a clean sheet — they've managed only one in their last fifteen matches in all competitions — and the Baggies new found tenacity in front of net and you've got a headache that even Advil can't handle.
It's not even that they're scoring — pardon the pun — goals by the bagful, but when you consider that they've got a very much in-form Saido Berahino ready to lead the line and that two of the four goals they scored against Burnley last weekend came from set-pieces, there's real cause for concern. Liverpool looked the better side for large portions of last weekend's draw with Everton and should they get in gear from the word "GO" they could very well be the team that upsets West Brom's good run of form, but if the match starts to drag or if the Baggies sneak an early one, the cause for concern will quickly blossom into full blown panic.
The age old adage that Rome wasn't built in a day continues to apply to Liverpool's season; you don't just plunk nine new players into a side and say "Ok, now go play football". There are a number of excuses to trot out — many that I've touched on continually — but the fact remains that if we're not winning, at the bare minimum we should be improving and beginning to re-capture the fluency and dynamism that made us such a force to be reckoned with last season. We've got one more bite at the apple before the international break; let's hope we chomp down hard.
–Steven