Training Methods War of Words Rages on as Liverpool Hit Back at Hodgson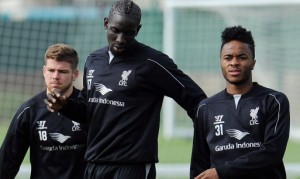 Everyone seems to have an opinion on whether or not Raheem Sterling should be tired on international duty and England boss Roy Hodgson isn't about to keep his mouth shut on the subject.
"Raheem might say it is something that is becoming ingrained in him and that he felt the need to talk about being tired more than he would normally do," said the England boss of Liverpool's 2-day rest policy for certain players. "We have never had any problems with that but I don't think there is a lot of medical evidence to support the two-day recovery so, if you want to, you might want to research that."
That, of course, didn't sit well with the Reds first team coach Mike Marsh who hit back earlier today. "Our fitness programmes have been well documented," he said. "We try to recover the players as best we can to prepare for the game. We have a couple of days' recovery after the game and we work with the group of players for the next game. We do quite a lot of analysis with the players so we break them up into smaller groups and feed back in different ways."
So, a one size fits all training method isn't the way to go? You mean things have evolved since the forties? What do you mean we're not playing with leather balls anymore?