Brendan Rodgers on QPR Win: Post Match Interview and Nowhere Near Expectations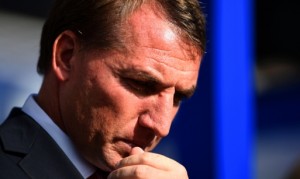 With the match tied at two a piece and mere minutes to go, I don't think anyone thought that Liverpool was going to get out of Loftus Road with all three points. Low and behold, Raheem Sterling saw another of his crosses diverted past QPR 'keeper Alex McCarthy in what was to be their final attack of the match as the Reds snuck out of the capital with more than they deserved.
"I thought we were fortunate, I've got to be honest," said the Liverpool boss in his post match press conference, echoing his captain's earlier comments. "I like to win and I like to win in the way that we work on a daily basis – and that was nowhere near what I would expect from a team of mine."
Had you told me in August that the Reds would be struggling to dispatch a team propping up the Premiership, there's a good possibility I would have questioned your sanity. Now, in mid-October, there wasn't even a sense of shock when Eduardo Vargas found a pair of equalizers in less than 10-minutes. Maybe that's overly cynical — and considering we ended up winning, I'll take that criticism on the chin — but it's the truth.
Regardless of all that, three points is three points.
Video courtesy of BeanymanSports
"The players showed remarkable courage to do that. We have gained three points that we're happy to receive, having been nowhere near how this team has the capacity to play" continued the Northern Irishman, sounding more relieved than satisfied. "We scored 101 goals last year, but the dynamic of the team has changed. That just takes time, unfortunately there's no magic wand to make it work instantly. We've got a lot of games, with less coaching time and a lot of new players."
And those news players are facing the same old problems. Martin Skrtel and Dejan Lovren looked like they've never played together before with the former Southampton man showing how much he misses a player with the quality of Morgan Schneiderlin sitting in front of him. Steven Gerrard deployed in a more advanced role — something many have called for for months — stuttered without someone of Xabi Alonso's quality to use as a launching pad. Mario Balotelli, who has never resembled Fernando Torres in his prime, was supposed to be the main beneficiary of his more attack-minded captain, but he made a number of baffling decisions as his poor run of form — something that it should be pointed out isn't all his fault — continued in earnest.
Those, of course, were only a few items of note in a match overflowing with them.
"I know there's a lot of improvement to make in our team," said the Reds boss, quickly switching gears to Wednesday's meeting with Real Madrid. "The benefit we have is that we're playing at Anfield with the support and encouragement that we get from the home crowd – it will be fantastic."
As an occasion, there's little doubt that it will be. Home and away with the likes of the defending European Champions are the kind of matches you dream about — but, if the Reds continue to underwhelm, that dream could very quickly become a nightmare.
"We didn't play so well today but we won. We'll learn from it; we'll analyse the game and study it. But now we've got to focus on Real Madrid, who are playing as well as they've played for the last five to 10 years, with the threats and quality they have and they are the reigning champions" he concluded. "I'm really looking forward to that. I know the players won't be overly happy with how we played today but I don't think anyone can question the character and attitude of the team. We've got our three points and we'll look to improve our performance in the next game."
There's really no choice at this point. This is a team that can improve in leaps and bounds; the quality, the talent the potential, and most importantly, the will is there from everyone involved. This project — this transformation, if you will — is going to take time and I think almost everyone understands and accepts the bumps on the road that come along with it.
That being said, yesterday was more than a bump — it was a crater. Now, it's time for the players, and the manager, to prove that they have what it takes to crawl out of it.
–Steven