Mario Balotelli Reportedly Ruled Out of Crystal Palace Clash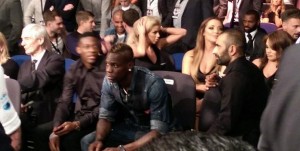 Although there has been no official confirmation from the club at this early hour, it's widely expected that Liverpool striker Mario Balotelli will miss the Reds clash with Crystal Palace later today.
The striker, who was pictured at the ECHO Arena last night taking in the Tony Bellew and Nathan Cleverley, picked up a groin injury while training with the Italian national team over the recent international break and, it would appear, he's failed to recover in time. While the 24-year old hasn't exactly been lighting up the Premier League since returning to England from AC Milan near the end of the transfer window, he's made sure that Liverpool boss Brendan Rodgers selection headache won't be going away anytime soon.
With Daniel Sturridge on ice for another six weeks, the Northern Irishman will be forced to choose between Fabio Borini and Rickie Lambert — or deploy both of them — when the Reds visit Selhurst Park. While that may not sound so bad on paper, the pair of them have made only one Premier League start this season each and don't have a goal between them.
Balotelli, of course, hasn't fared much better as he sits on a goose-egg in the league as well, but at least he has a bit of playing time under his belt. The Italian has struggled to adapt to being deployed as a lone striker and Rodgers has hinted that he could very well look to change things up to arrest the Reds slide down the table. While that may have just sounded like lip service to the press, if the press is right, he's not going to have a choice.