Manchester United Buildup: Van Gaal isn't Impressed, Evans Short Attention Span and Falcao the Lionheart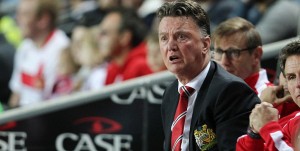 Manchester United must be feeling pretty confident heading into Sunday's meeting with bitter rivals Liverpool. Less than 24-hours after taking care of Premier League high-fliers Southampton to secure a much needed momentum boost, they got to look on as the Reds dropped tamely out of the Champions League with only a single win to their name.
While schadenfreude is no doubt the order of the day at Old Trafford, there's no question that the Reds will be looking to come up big this weekend to get back to winning ways. Brendan Rodgers side haven't come close to hitting the lofty heights of last season as they continue to stall and stutter, but though their league position may suggest otherwise, his counterpart in Louis van Gaal hasn't exactly been setting England alight either as he faces his own struggles to get the Red Devils rolling again.
It'd be easy to point to the win at St. Mary's on Monday as a turning point, but when you consider that Southampton had control of the match for large swathes and restricted United to a mere two shots on target, the three points look a little less deserved. On the other hand, when you consider that they found the net with both of those shots, one on either side of the half by Robin van Persie, they sound a bit more like the team that used to grind out results no matter what the circumstances.
Rather than their deadly prowess in front of goal being the foundation on which the three points were earned, instead, it was at the other end of the field that the match was truly won with 'keeper David de Gea putting in another exceptional shift between the sticks. While there's really no question that the Spaniard, who is reportedly a target for Real Madrid, is having a stand-out season, van Gaal hasn't exactly been forthcoming with praise for the 24-year old.
"What do you think I have to answer now? He stopped three balls I think" answered the Dutchman with the gruff attitude that has become a hallmark of his press conferences when asked about the shot-stoppers exploits. "I think three in total. Is that normal or not. Is that exceptional?"
We'll leave that question up to Reds boss Rodgers who continues to not only have problems with his backline as a whole, but with 'keeper Simon Mignolet in particular. Although the Anfield outfit have been more defensively sound as of late, that didn't stop FC Basel from finding the back of the net early in their encounter on Tuesday night with a fine piece of attacking skill. With Liverpool needing a win, and only able to pull level through a superbly struck Steven Gerrard free-kick, that first half goal ended up being the decider as they tumbled out of the Champions League after waiting five years to make a return to the competition.
Despite dropping down into the Europa League, United defender Jonny Evans knows better than to underestimate the Reds. "We are in a bit of form in terms of results and Liverpool are not but all form goes out of the window in these games and anything can happen. I haven't seen many of their games this season, but I watched a bit of the one in the Champions League the other night against Basel" admitted the channel surfing Northern Irishman. "Obviously, they were under a wee bit of pressure to get a big result that they didn't get in the end. Luis Suarez has gone and maybe they aren't as strong, but they've still got some fantastic players who can still create magic on the pitch and that is something we will have to be careful of."
Just how careful is up for debate, but that could be argued by either side. No one needs to remind these supporters how important this match is with the Northwest Derby still ranking up there on the most important, if not the numero uno most important, fixture on the list. Strong British contingents in both sides are well aware of the fire that comes with this particular meeting, though some of the foreign players may need a little bit of a history lesson to truly grasp just how deep this rivalry runs. Thankfully, no one will have to take the time out to explain this to on-loan Monaco striker Radamel Falcao after he revealed his English roots.
"My maternal great-grandfather was born in Yorkshire but was contracted to work for a company who had a base in Colombia," the 28-year old, who played in more than one Madrid derby, told Inside United ahead of Sunday's clash. "So I have English blood running through my veins!".
So…yeah. There's that, then.
–Steven