Raheem Sterling Snags Golden Boy Award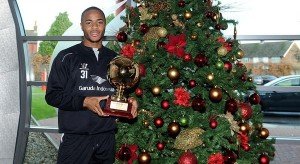 While it might sound like something that's been made up just for fun, the European Golden Boy trophy is in fact a real thing and Liverpool attacker Raheem Sterling has picked up the prestigious award for 2014 — which, really, is anyone surprised about?
The 20-year, who shrugged off competition from 39 other youngsters, had a breakout year for the Reds as they pushed eventual Premier League champions Manchester City to the final day of the season, scoring 9-goals and providing 5-assists along the way as the Anfield outfit bagged over 100-goals over the course of an electrifying campaign. Hailed as one of the most promising talents in Europe and regularly featuring as a main cog in the senior England team, it's safe to say that Sterling was the the obvious choice for this particular piece of hardware.
"It's down to hard work. I'm really happy that people are recognising that I'm trying to work hard and do my best for this football club. I'm really grateful for this award," he said following the announcement. "I'm young and learning all the time. This award just shows that hard work gets you where you want to be, and that I'm on the right track for where I want to be in my career."
Previously won by the likes of Lionel Messi, Wayne Rooney, Mario Gotze and Sergio Aguero, the European Golden Boy trophy is voted on by journalists that represent over 30 of the most respected new sources on the continent, with any player, in any league, under the age of 21-years old eligible for consideration. While things haven't been quite as rosy for Sterling and Liverpool this season, the newly crowned Golden Boy snagged himself a brace against AFC Bournemouth as the Reds set-up a League Cup semi-final clash with Premier League rivals Chelsea midweek.