Lazio Remain Ambigous Regarding Mario Balotelli Rumours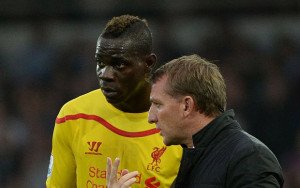 With Liverpool boss Brendan Rodgers throwing the future of struggling striker Mario Balotelli even further into question following his revelations that the 24-year hasn't been doing his bit in training, Italian side Lazio have in return done nothing to quell speculation that they're looking to take him back to Serie A on loan for the remainder of the season.
Balotelli has been linked with a temporary move to a number of different teams after falling far out of favour on Merseyside, but with only a handful of days left in the transfer window, Lazio are emerging as the favorites to take stewardship of the controversial hit-man with the Roman side making the most noise out of all of the pack rumoured to be chasing his signature. Now, whether or not there's any truth in this remains to be seen, but for the time being anyway, their not doing anything to distance themselves from the controversial striker.
When asked whether or not he was interested in making a move for Balotelli earlier in the week, Lazio president Claudio Lotito played it cool by saying that there were "a lot of rumours" about his future, and when pressed further during an interview with Radio 24 not long after, he kept didn't exactly veer from his habit of providing ambiguous answers. "We do not deal in dreams, but in solid realities" he said the Italian businessman when asked about their interest in the 24-year old.
While you can easily spin that any which way you'd like, midfielder Lucas Biglia wasn't quite as aloof when he was asked if the team would be open to Balotelli joining them. "We'd be delighted to play with [Mario]," said the Argentine following their dramatic win over Serie A powerhouses AC Milan on Saturday. "If he comes he would be very welcome."