Club Brugge 'Keeper Mat Ryan Flattered by Liverpool Link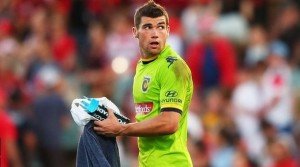 On the back of Liverpool's improved defensive performances 'keeper Simon Mignolet seems to have regained some of the confidence he was lacking at the beginning of the season, but that hasn't quieted talk of the Reds ongoing search for a replacement.
While they're unlikely to make a move before the transfer window closes at the end of the month, the Anfield outfit has been on the lookout for top-class competition for the Belgian. With the contract situation of understudy Brad Jones up the air, reported target and compatriot Mat Ryan of Club Brugge has weighed in on reports that Liverpool are considering taking him to the bright lights of the Premier League. "Obviously it's very flattering to have your name involved with a big team like that" said the Australian international while on duty at the Asian Cup. "But my mind is on the job here."
Although Australia's involvement in the competition has been a point of contention for some time now, the Socceroos have a shot at bringing it all home when they face off against South Korea in the final later today. Unlike their disappointing World Cup campaign, backstopped by Ryan, they haven't conceded a goal in the tournament since their opening match — a 4-1 win over Kuwait — at the start of the month.
While the Reds would probably benefit more from bringing in a net-minder with far more experience, boss Brendan Rodgers could look to Ryan, who fits the model of being a young player with heaps of promise, to not only provide competition for Mignolet, but also to help fulfil the clubs Home Grown Player quota. Regardless of the speculation, the 22-year is focusing on the here and now. "For the moment I'm very happy at Club Brugge and my club (with me) also" he continued before hinting that he's not ruling out the Merseysiders following up on their rumoured interest sometime soon. "If it's meant to be, something will happen in the future."