Arsenal Preview: We Just Don't Have a Margin for Error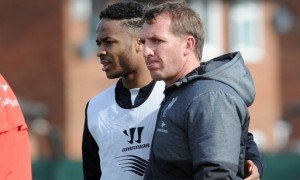 If losing to Manchester United just before the international break handed us a major blow in the race to secure Champions League football, losing to Arsenal tomorrow will all but put our ambitions to bed.
Sitting five points out of fourth place and with only eight matches left in the season, we no longer have a margin for error — every single point is absolutely vital. At beginning of December it seemed to matter far less with our poor start to the season and early exit from the prestigious fields of Europe's most important club competition seemingly resigning us to the fact that we wouldn't be returning anytime soon. Queue a well orchestrated turn around in fortunes and now missing out could only be described as a cosmically cruel joke. I don't know about you, but I'm not keen on the universe snickering in my direction.
Getting a result at the Emirates is always easier said than done though with the Reds poor record in North London standing in sharp contrast to the result that they so desperately need. Arsenal, on the other hand, haven't exactly had the best record against the current top five teams this season and have won only once at home against them in their last eleven outings. If Liverpool hope to get something from this, they're going to have to get over the loss to United really quick.
As much as anyone might try to tell you otherwise, the Reds are still reeling from the result with both Martin Skrtel and Steven Gerrard picking up respective three three match bans for their indiscretions and the likes of Daniel Sturridge, Adam Lallana and Raheem Sterling picking up knocks at various stages of the proceedings. Although it looks like all three will be fit to play tomorrow, just how fit they'll be — and whether or not Sterling's head will be in the game — is up for debate.
The Gunners have their own injury problems to contend with though; Danny Welbeck, who scored in England's win over Lithuania, picked up a knee problem and was sent back to London ahead of the Three Lion's draw with Italy earlier in the week. The former United man will be a late decision, but they'll definately be without a trio of midfielders in Mikel Arteta, Alex-Oxlade Chamberlain and Abou Diaby, as well as being a defender short with the impressive Mathieu Debuchy still sidelined.
As much as a headache as that may be, it has to be said that Arsenal boss Arsene Wenger has been well versed in dealing with shortages in his squad throughout the years. Claiming wins in 14 of their last 16 matches, the North London side are the only team in the league to have pulled in more points than Liverpool since the turn of the year which only makes our job that much more difficult — well, on paper anyway.
Form doesn't always evaporate with a loss, but there's been questions about the Reds for a few weeks now. Playing poor and still winning is quite often a hallmark of a team that challenges for shiny things, but the dismal draw with Championship side Blackburn Rovers and the poor first half against Swansea City seemed to culminate in the loss to United. Still, in each of those matches we saw Liverpool turn it back on with all the high pressing, free-flowing, attacking astuteness that makes our game exciting. We saw the warning signs and the eventual plummet, now it's a question of whether or not we can pick ourselves back up.
It won't be easy — especially not against Arsenal — but we don't really have a choice do we? It's not like we've left ourselves a margin for error.
–Steven