Sampdoria President Looking to Bring Mario Balotelli Back to Italy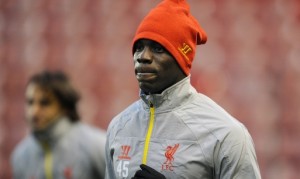 It's looking more and more like Liverpool's experiment with temperamental striker Mario Balotelli will come to a spectacular, crashing end this summer with a number of transfer rumours linking the 24-year old with a return to Serie A.
While a reunion with former Manchester City boss Roberto Mancini at Inter Milan doesn't seem all that likely, a number of other sides in his homeland have emerged as potential candidates to take on the enormous challenge that is managing the unruly forward. Back in January Lazio hinted at an interest in taking him in on loan, but nothing materialized leaving Balotelli to languish further on Merseyside. While the Roman outfit spent much of the winter window beating around the bush, Sampdoria is getting the ball rolling early, but they're being quite a bit more forthright with their intentions.
"I would take him — he'd be the real Balotelli again here. He wouldn't have too much pressure here in Genoa," the president of the Serie A club Massimo Ferrero was quoted as saying La Gazzetta dello Sport. "He's lost his hunger. He's earning too much. If he was only on bread and water, he'd be a champion again."
The 24-year old, who signed from AC Milan at the end of August for a fee somewhere in the region of £16mil, is reportedly earning around £100,000k per week at Anfield depending on whom you believe. That, of course, would be a huge problem for all but the biggest of Italian clubs — and those ones are unlikely to want him around. Balotelli has struggled for form since returning to England with numerous injuries, various illnesses and a public relations debacle or two blighting his time in ol' Blimey. Despite repeatedly and emphatically insisting that he has a future at Anfield, there's little doubt that Reds boss Brendan Rodgers will be happy to see the back of the Italian striker when someone — anyone — takes him off his hands…