Reds Boss Hints that Daniel Sturridge Could No Longer be First Choice at Anfield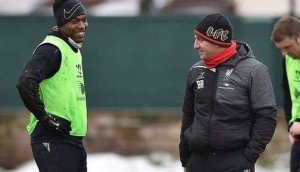 After having his season ruined by injuries, Liverpool striker Daniel Sturridge is facing the prospect of being ousted from his starting role at Anfield with Reds boss Brendan Rodgers saying he needs a top level player that's going to be available week in and week out.
"He's not fit and once he can show that consistency and fitness, you can see in his performance level that it's a high one. But obviously he has missed a lot of the season so we need to assess it. Either way, if he's not available, we need to have that support," said the Liverpool boss. "We have to hope with Daniel that this year was just an unlucky season and he can come back super-fit and super-strong because he has an immense talent. You can't argue with that. He can be as good as any striker in the world with his talent," he continued, before getting blunt on what he needs up top. "I need one that is going to be playing and at a top level every week."
After failing to shoe-horn Mario Balotelli into the Reds style of play, the Italian will almost certainly make way this summer for someone better suited to Rodgers needs. Liverpool, as per usual, have been linked with a number of players with prolific PSV Eindhoven hit-man Memphis Depay and Borussia Dortmund flop Ciro Immobile being linked with moves to Merseyside, but sitting outside the top four with six matches left to play and the prospect of missing out on Champions League football a very real possibility, attracting top level talent won't be easy.
"It's not rocket science. We haven't scored enough goals this year. If the sequence goes on we are on course to be around 60 goals down on last year. That's a huge amount. I came in the season before and we had 49 goals, so you're taking nearly a season of goals out of the team" explained the Northern Irishman in a very matter of fact way. "It's simple, we need more of a scoring threat. We missed it immensely this year and obviously that has affected results. I think what the players have done to arrive where we have is credit to them without that. So in the summer we have to try and find goals again. We looked last summer and certainly will again this summer. If we do that we have an opportunity again for next season to be like our second year."