Top 5 Betting Apps for Your Android Device
If you're looking to place some bets straight from your Android device, these top 5 Android betting apps will cover all your needs
With the summer coming to a close, there's nothing else that we all look forward to more than watching some quality football once again. And with great games comes another great thing about the season – winning some cash.
Luckily, we live in an age where most operators and providers have adapted to the mobile phone market successfully and eliminated the hassle of driving to your local bookie or casino to place some bets. Currently, the two most popular choices for mobile gambling across the globe are sport bets and casino games, and each can be enjoyed easily via mobile apps.
If you want to know what the other option offers, you can check out this review by Microgaming Tribune, but if you want to find the best choice for betting on your favorite sports via you Android device, check out this top 5 Android betting apps: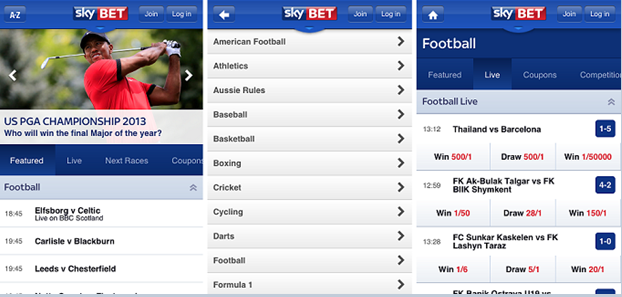 Sky Bet
Sky Bet is one of the most commonly used betting sites and their official Android app only confirms the reputation. Sleek, fast and easy to navigate, the app makes finding any games simple to do as you can easily swipe the A-Z slider and find your match fast. The betting options are not to be missed out on either, as Sky Bet offers over 5000 events a week from most major sports including football, tennis, horse races, basketball, cricket, golf, and even Formula 1, among other things, as well as popular betting types like accumulator bets, handicaps, Yankee Bets, etc. And just like other top betting apps, the Sky Bet app gives you a £20 bonus on your first £5 bet. However, the app also sets itself apart in handing out £5 bonuses every week as a thank you for joining their Sky Bet club.
Will Hill
UK punters will know Will Hill as one of the most widely-spread betting operators in the country and their betting app certainly lives up to the standard of options you would expect from them. The app has one of the largest selections of in-play bets for the same wide range of popular sports you can find on the website but also a live stream section, though not as diverse as Bet 365's. The welcome bonus the app offers is fairly standard – a £20 bonus on your first bet – but their football bonuses are what make this app perfect for every fan. One example is the "Bore Draw" option that lets you win back your money in the form of a free bet if the match ends in 0-0 on your "Correct Score" and "Double Result" bets, but there's also the free bet return when one match fails in five-accumulator bets and a number of other benefits.
888 Sports
If you haven't heard about them, 888 are a fairly new company that first started off as a casino and then expanded to sports. But their fast expansion is primarily owed to their quality, which is exactly what you can expect from the app. Once you install it, you'll notice that it successfully avoids the jumbled feel that other apps have by making navigation a breeze. The app has a wide selection of bets, including football, basketball, baseball, golf and horse races, and their bet types are not scarce either. But what makes the app unique is the "treble winnings" welcome offer, where you can get your winnings trebled on your first bet of £5minumum, as well as get a £5 casino bonus as a reward.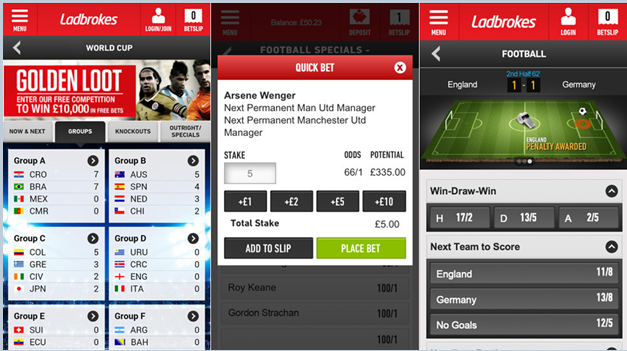 Ladbrokes
If you've ever looked for bets online, you've definitely stumbled upon Ladbrokes – one of the largest land-based operators in the UK, but also one of the best for mobile bets. Though not a traditional app in the sense of download and installs, the app is actually a web app that you access via your mobile, which is why it runs very smoothly across any Android device. You can find almost every major league like EPL, NBA, NFL, AFL, cricket, tennis, and golf, but also other betting options that'll appeal to even the pickiest of punter. There's also the in-play betting option and a live streaming section with over 30,000 events, but the Premier League is not in there due to broadcasting rights. Ladbrokes also offer a £50 welcome bonus that you can spend on one bet – which is more than most apps give.
Bet 365
If you haven't hear about Bet 365, then you must have been living under a rock for the past 10 years as they are one of the most used websites for live stats and online betting. Their betting app impeccably re-captures the best things about their site in a very fast, simple, and compact format. Check out a review of Bet 365. As soon as you click the app, you are taken to an in-play screen where you can see current events, from where finding any other options is fast and simple to do. When it comes to selection, Bet 365 offer almost any sport that you can think of, from the most popular leagues to the obscurest of sports, while their live stream section of 50,000 events is matched by no other app on the market. And when you add their 100% match welcome bonus offer of up to £75 and their 100% bonus on accumulator bets for the Premier and Champions leagues, then it all adds up to the best football betting app around.