The Premier Leagues' Entertainers Look To Cement Top Four Positions
It was truly end-to-end stuff at the Etihad Stadium on Sunday, with two managers urging their players to take the win, and in doing so, creating one of the most compelling contests of the season.
Both Jurgen Klopp and Pep Guardiola possess footballing philosophies which should continue to make encounters between Liverpool and Manchester City a thrilling ride for fans and neutrals alike, as well a great advert for the Premier League. Guardiola seemed the happier of the two managers, but both can take positives away from the performances of their respected teams, and head into the final few games of the season with renewed optimism.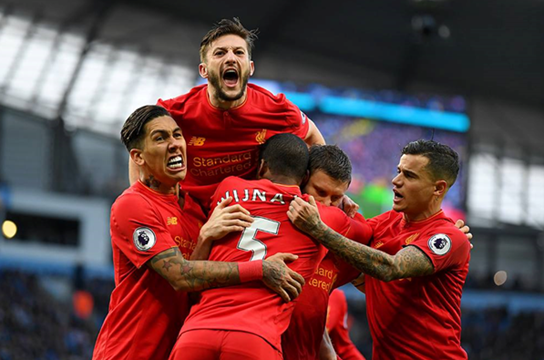 Source: Liverpool FC via Facebook
The Entertainers
Liverpool went into this fixture with great confidence due to their superb record against other top six rivals and the oddschecker tip to back Liverpool (draw no bet) seemed the wise call. Yet City represented something of a wounded animal, requiring a strong performance after the disappointment of their Champions League exit at the hands of a free-scoring Monaco side.
City had the best of the early skirmishes, with former Red, Raheem Sterling, looking to use his pace against James Milner at left-back and City came close to opening the scoring with a low cross threatening the Liverpool goal.
The second half saw Liverpool take a more commanding role and The Reds were rewarded when Gael Clichy made a desperate attempt to thwart Roberto Firmino by clumsily fouling the Brazilian in the box. City could have few complaints about the awarding of the penalty and Milner stepped up to do what he always does in these situations, burying the ball in the back of the net to make it one-nil.
City looked to respond and after failing to get on the end of a number of dangerous balls into the Liverpool box, Sergio Aguero was eventually able to do just that to restore parity and set up a fascinating last 20 minutes.
Both teams looked fatigued in the final stages and possibly that tiredness could account for Adam Lallana's miss from point-blank range, but it seemed the Englishman simply lost focus and was already planning his celebration as the ball drifted past his foot.
Both managers realised the game was possibly too open, as each side created chance after chance; Guardiola brought on Fernando while Klopp looked to Lucas Leiva to provide more cover in the middle of the pitch. Man of the match was Kevin De Bruyne with a rating of 8.4, but many players impressed with their performances and can be proud of producing such an enrapturing contest.
It was a bizarre game in that there was only one goal apiece, with both sides having 13 shots and a multitude of chances, but in the end, a draw seemed a fair result. We'll all look forward to these entertaining sides going toe-to-toe again next season.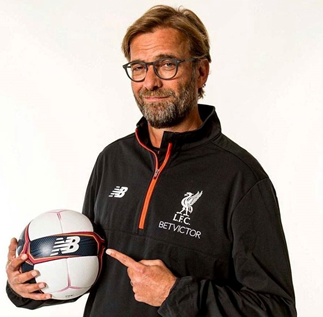 Source: Jurgen Klopp via Facebook
Reds Move On
When Klopp's team beat City on New Years' Eve, it seemed the impetus for a title tilt, but Liverpool's form this calendar year has been baffling and Chelsea are strolling to the trophy. Liverpool, like City, continue to be great entertainment because they are unquestionably flawed, in that they possess incredible attacking ability, but remain vulnerable in defence. Their unbeaten record against the top clubs is something to be proud of, yet without backing up these results by taking all the points against weaker teams, Liverpool will always be looking up at the summit of the Premier League.
Liverpool face Everton next in what promises to be a sizzling Merseyside derby, with The Reds looking to cement their top four position, while Ronald Koeman's improved team look to smash their way into contention for a Champions League qualification spot.
Once that fixture is dealt with, Liverpool have, on paper, what appears to be a very accommodating run of fixtures against teams with little or nothing to play for. Liverpool should be looking for revenge against Bournemouth and Southampton after losing out to them already this season, and their trips to Anfield should be six points in the bank.
Middlesbrough and Crystal Palace also need to visit Anfield and hopefully, both teams will have little to play for, being either relegated or already securing their Premier League status for next season. Away days to Stoke City, West Brom, Watford and West Ham could be fearful considering Liverpool's form against these types of clubs, but we should find opponents secure in their mid-table position with no aspirations of making Europe and one eye on the beach.
Liverpool's form against the other top six sides gives hope not just for the next Premier League season but for their chances against the cream of Europe in the Champions League. Klopp's team simply must achieve a top four position or this season will be viewed as a huge opportunity squandered. With just nine games remaining and Manchester United and Arsenal hot on their heels, it's time to show that Liverpool are capable of beating both the best and the rest and are worthy of being called one of the best four sides in the country.