Anfield Currently Under Further Expansion!
Following the completion of the expansion of the Main Stand back in September 2016, Anfield is currently undergoing further redevelopment this summer with the expansion of the iconic 'Kop' stand.
Living close to Anfield is a real bonus at times, hearing You'll Never Walk Alone being sung from my home, to the privilege of seeing Anfield almost every day travelling into Liverpool City Centre. It really is a treat. With the completion of the new Main Stand back in September, Liverpool have still continued their redevelopment of the L4 area with the improvement of Stanley Park and the construction of a new Liverpool Football Club store.
Though it hasn't ended there.
Whilst coming home from the city centre last week, there were numerous cranes and such surrounding both sides of the Kop. However, with the implementation of a new playing surface, I thought nothing of it. But again, travelling past Anfield, both corner sides of the Kop had been opened up were I could even see some of the seats inside, and it got me curious as to what was happening.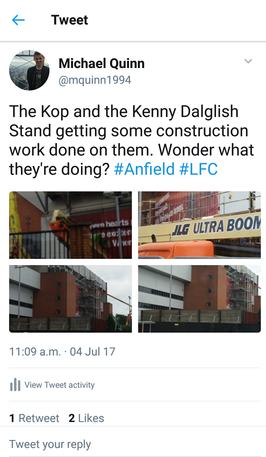 This morning, again heading past Anfield, it was clear to see that both sides of the Kop were slightly being expanded on both sides.
Back in March, in the Liverpool Echo, an article by James Pearce read that the Kop will undergo an expansion in the summer, and a planning applications proposed that;
"An increase in the seating area of the Kop Stand comprising two 'in fill' additions at the rear of both sides of the stand creating 470 additional seats."
The addition of the 470 new seats will take the Kops current capacity of 12,400 to just under 13,000, making those European nights next season that extra special.
Not only is the Kop under some construction work, but also the newly named Kenny Dalglish Stand is also having some upgrades. Though it is not understood exactly what is being done to the formerly known Centenary Stand to my knowledge, perhaps a tribute to Kenny Dalglish for the upcoming season?