Liverpool vs Manchester United: Match Preview
Even though this match needs no introduction, I'm still going to introduce it because it'd be just weird if I didn't — it's Liverpool, it's Manchester United, it's the Northwest Derby and it's one of the biggest games in world football.
Oh, and did I mention it's tomorrow? Fresh off yet another international break, these two bitter rivals will clash in a lunchtime kick-off at Anfield with both teams holding a common goal, but looking to gain entirely different things from it. Although the Reds only sit seven points off the top and a single point off the top four, they'll be hoping to get their season back on track with a string of disappointing results weighing down the optimism that sprung out of their demolition of Arsenal back in August.
On the other side of the pitch, United — who will be facing their first real test of the season — we be hoping to seal their status as real title contenders with their early season form hinting that they could could still be in the fray for the big prize come the end of the campaign.
Liverpool attacking duo Roberto Firmino and Philippe Coutinho should be ready to start after returning from South America on Thursday via a private plane, but arguably the most important member of the "Fab Four" in Sadio Mane will miss out after the pacey winger picked up a hamstring injury that will see him miss the next nine matches. Mohamed Salah, who featured for Egypt, is thankfully fit and will quite likely be the focal point of their counter-attacking plan.
Although the Reds have lost only one of their last 14-matches at home, they've struggled against United in the league as of late, losing four and drawing two of their last six matches — a unwanted record that Liverpool boss Jurgen Klopp will be looking to fix in what will be his first match following the second anniversary of him taking over at Anfield.
"If we win? Actually, that's the only thing I think about," said a quizzical Jurgen Klopp, answering a question in his pre-match press conference. "We'll try with all we have to win but I don't think about what it will mean then. But it's a big, big, big opportunity. It is like it is. We are, you probably see it a little bit different, but we are in a really good moment," continued the German manager, going on to add, "It's a fantastic game and how I see it, two really good football teams against each other."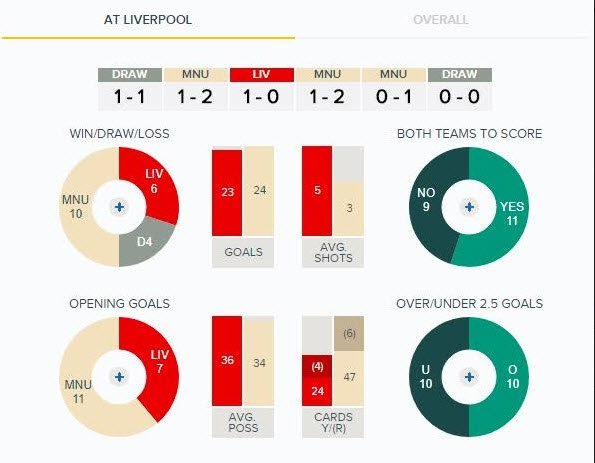 Infographic courtesy of Kick-Off
Mane being sidelined may be the big story, but United boss Jose Mourinho has fitness concerns of his own. With Paul Pogba sidelined, the Portuguese tactician has been deploying Maroune Fellaini in his place, but the Belgian has since picked up a knock of his own while on international duty and will miss out on the trip to Anfield. With that being said, after initial fears that he could also miss out, star striker Romelu Lukaku will be fit enough to play some part despite a problem with his ankle.
Phil Jones, who missed out on England duty, will also be ready to go when they make the trip to Merseyside, but there won't be any concerns around the visitors defense on Saturday. Klopp, who has taken to rotating his goalkeepers, could start either Simon Mignolet or Loris Karius tomorrow, but if available, Dejan Lovren and Joel Matip will almost certainly anchor the Reds back-line. Now, whether or not that's a good thing is up to you.
And, it can also depend on whether or not Mourinho decides to park the bus and play for a point. For all the build-up and excitement that swirls around these meetings, this same fixture last season was a terrible slog. Liverpool, predictably, will look to bag an early one to get things going, but if their ongoing woes in front of the net continue — or, they fall behind in the first half — we could be in for a long afternoon.