How Important is the Merseyside Derby These Days?
Liverpool and Everton, separated by just 400 yards of Stanley Park turf, and with a combined tally of 27 league titles, are great rivals who command the respect of the top flight in their own respective ways.
Outside London, Liverpool is the only city to boast more than one ever-present in the post-1992 Premier League, but the gulf between the sides is as pronounced as it was around four decades ago, at a time when there was only one team to be reckoned with.
Regardless of how December's upcoming derby goes, Liverpool have already won their 'big' fixture of the season, putting an eight-point gap between themselves and Manchester City. Little else is likely to matter from here, and so, with the Premier League's current climate being what it is, does the Merseyside derby still have the grand significance of old?
Rise and Fall in Post-War Liverpool
The Merseyside derby was first played out in October 1894, with Everton running out 3-0 winners at Goodison Park against their then two-year old rivals, who had taken Anfield – and the very name of the city – as their own.
Over the following half-century from that first fixture, it was Everton who led the way, and with Everton's 'Holy Trinity' of Kendall, Ball and Labone being the envy of the First Division after destroying Liverpool 4-0 at Anfield in September 1964, it seemed as though the die had been cast. A certain Bill Shankly, manager of Liverpool, had other ideas…
With a revolutionary approach to training and recruitment, the tide soon turned around and Liverpool would enjoy an unbeaten eight-year unbeaten run in derbies between 1970 and 1978. Despite the gulf that grew since the disbandment of Everton's 'Holy Trinity', and the departure of Harry Catterick, the Merseyside derby remained a great showpiece.
However, Merseyside derbies would become the definitive fixtures of the season in the mid-to-late eighties. In 1984, Liverpool won the First Division title for the 15th time, but could do nothing about Everton's upcoming surge in 1984/85. That season remains the last time Everton completed a derby double over the Reds, and precipitated a rally of title wins between the two clubs that would last for another three years.
'Above us, Only Sky'
Both clubs then entered a decline in the early 1990s, and with Manchester United growing as a force under Alex Ferguson around that time, greater attention would be paid to Liverpool vs Manchester United clashes.
That was, and still is, reflected in the fixture's consistent selection for live broadcast, and its popularity amongst those that bet on football. With Liverpool showing far more open hatred for United in the 1990s, during the Red Devils' monopoly over the Premier League, the animosity between reds and blues in the city would at least appear somewhat diluted during that time.
Nonetheless, the start of the Premier League era in 1992 honoured the Merseyside derby's place amongst English top-flight lore, and with the exception of 1998/99, every Premier League season has seen at least one Merseyside derby given live TV or PPV coverage.
Since 2004/05, both Merseyside derbies have been televised consistently every season, but these days it is often shown alongside other key matches, with a similar sense of tradition-based gravitas and emotive values. The first Sunday of last December is a case in hand, as it opened the busiest (and most financially lucrative) month of the football calendar with derbies in West London, North London and Merseyside.
While the Merseyside Derby's last-place billing that day gave it the greatest sense of importance, one can only question just how much that placement was down to Liverpool's involvement in the title race, rather than its credit as a fixture of real consequence amongst 379 others.
Indeed, between 1992 and 1999, at least one televised Merseyside Derby clash was the only fixture played on the day in question. Tellingly, Liverpool's last victory at Goodison, back in December 2016, is the most recent occasion where a Merseyside Derby was unaccompanied by any other untelevised Premier League fixture on the same day.
Furthermore, the nature of the game – and the very audience that watches it – has changed drastically over the past 27 years. With Liverpool now enjoying a near-unrivalled presence over in Asia, and gaining additional popularity in North America, there is further reason to think that Merseyside Derbies are not just televised to simply honour the tradition of the two clubs involved.
A Change in Dynamic Needed to Restore Former Glory
Merseyside derbies are also scrappy affairs that seldom make for virtuous viewing. There is nothing new about that, but in a viewer-driven footballing culture, consistent entertainment is an insatiable demand, with fewer and fewer fans now prepared to take the rough with the smooth.
Where the derby itself is concerned, it seems as though the desire not to lose face in the city often outweighs the desire to win. Last season's pivotal Goodison Park derby, which ultimately cost Liverpool the title, was a game that reflected this well.
For reasons only Klopp and his men know, Liverpool were far from their best on that occasion. Yet, despite the Reds' under-par performance, Everton barely escaped their own half, and treated the stalemate as a positive result.
With Liverpool unbeaten in a record 19 meetings against Everton – having last conceded an open-play goal against them in October 2015 – the fixture has ultimately felt like more of a procession, and a chore, rather than the enjoyable, pulsating war it should be.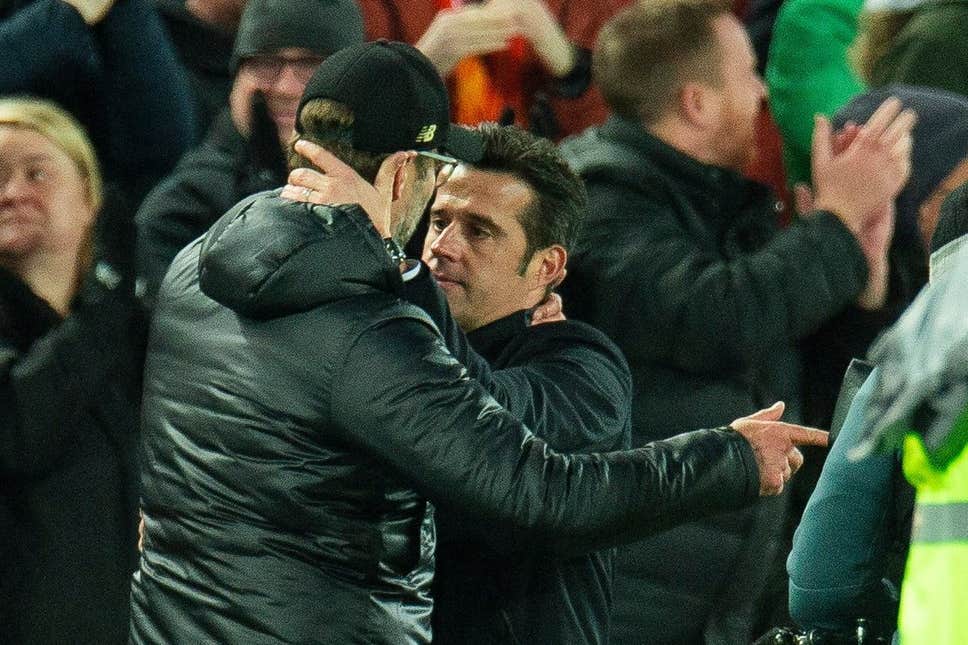 How Important is the Derby Long-Term?
While both teams have experienced memorable derby wins in the past, which have launched a good run of form in the weeks after, it is still difficult to really identify any derbies from the past half-decade that have made true long-term change.
Indeed, even if Everton somehow do stun Liverpool next month, and end the Reds' 46-game unbeaten run at Anfield, many Evertonians would still expect their side to underperform come the next game, such is their learnt sense of pessimism after 25 years of trophyless misery. Liverpool fans, though understandably distraught in that scenario, would still see it as a mere blip in their title charge.
When all is said and done, a Merseyside derby is one game, and any sense of importance will be a retrospective one after the furore of the match itself has evaporated. In most cases though, a sprint towards a few months of bragging rights will never match a marathon towards years of power over the world's toughest league and most expectant fans.
Right now, on the domestic scene alone, Liverpool's sole target is to regain parity with Manchester United, and that will become reality with two uninterrupted title wins. Liverpool's expected win over Everton in December is not the start of a path to that reality, it is merely a junction.