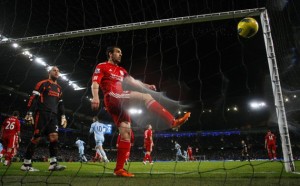 What can you say about that? Consistently second best, Liverpool opened their first of three matches in January with Manchester City by falling 3-0 at the Etihad Stadium and the grumblings about the matches to come, a two- legged Carling Cup semi-final, have already begun. Goals from Sergio Aguero, Yaya Toure and a coffin nailing penalty from James Milner was a little more than enough to see the home side through despite going down to 10 men when Gareth Barry saw red for a second bookable offence. I think it's about time to re-iterate the opening question: what can you say about that?
With the club declining to appeal the 8 match ban handed down to Luis Suarez, the Uruguayan was effectively ruled out and just like that a team was picked. With Bellamy's knees too fragile to start and Steven Gerrard needing a bit more time in the oven, it would be the usual suspects in the center and up top. Although the scoreline brings to mind the thrashing at Tottenham earlier this season, it would be lazy and wholly unreasonable to suggest it.
While Liverpool were picked apart at White Hart Lane, our first trip to the Etihad under Kenny Dalglish wasn't the massacre the scoreline brutally paints but make no mistake; we did little, if anything to deserve one point let alone three. As the season progresses and Charlie Adam fades with it, his partner in young Jordan Henderson grows in confidence. An intricate through ball in the opening exchanges found a streaking Downing go mano-a-mano with Joe Hart only to, predictably, shoot straight at the Manchester City 'keeper.
It all could have been so different had our maligned winger shook off his habit of spectacular failure and finally found the net in Liverpool red. Having City chase the game and giving our defense a chance to stifle the home sides stuttering attack would have opened a whole new ballgame but our inability to finish would once again be our undoing as Sergio Aguero found the breakthrough after an ineffective Dirk Kuyt was dispossessed trying to dribble his way out of the danger zone.
The Dutchman has never been known for fancy footwork so why he chose to dance around rather then pass or attempt to clear, is beyond reason. David Silva quickly found Aguero and with the resulting shot taking a rather odd-looking flight path, Pepe Reina was unlucky to see the ball slip underneath him.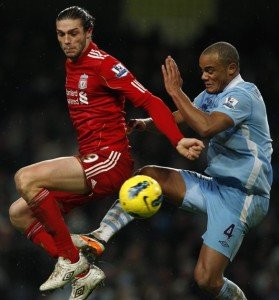 Despite the World Class attacking talent at the disposal of Roberto Mancini, the home side were having a problem getting anything going as the visitors slowly came into their own, controlling play and dictating traffic all over the park. Unlike the Spurs match, we weren't being run out-of-town but our lack of creativity, or ability to string together anything of true substancein the final third, would again come back to haunt us when Yaya Toure doubled the visitors tally.
Not to run down Steve Clarke but we've been terrible trying to defend set pieces this season and again we were weak in the air. With Reina redeeming his earlier blunder by blocking Vincent Kompany's first crack at goal, the Reds wouldn't be so lucky the second time around as Yaya heaped on the misery by rising highest to smash in a lovely David Silva corner.
Andy Carroll cut a forlorn figure as the blunt tip of a misdirected spear and despite a lack of service or any real support, will take a good part of the blame for our toothless attack. With City content to sit back and soak up any pressure we generated, crosses continued to find no one with Andy constantly the only player willing to wade into the box and the mass of Blue shirts that occupied it. Stewart Downing and Charlie Adam continue to underwhelm as the season ticks on and an unusually poor game from the Dutch master saw him substituted out, along with the erring Scot, for Bellamy and Gerrard in an attempt to salvage at least a point for our endeavors.
Jay Spearing and Jordan Henderson, in contrast to their far more experienced contemporaries, both impressed and with little glints of hope starting to sneak through, it wouldn't be long before Kenny's men were handed a life line. Daniel Agger has once again found his feet and on one of his increasingly frequent forays forward he was shoulder checked by Gareth Barry, earning the England man his marching orders after picking up a previous yellow card. You'd think an advantage of this size would spur the side to attack but when Martin Skrtel's breath got the better of a surging Yaya Toure, the ref didn't hesitate to point to the spot.
Harsh on the Slovakian and even harsher on the Reds, there would be no Englandesque mistakes when James Milner smashed home the resulting penalty to seal the win. Late flurries have been one of the hallmarks of our season but so is the resulting futility on display when the final whistle sees us accomplish nothing.
So, City win the first round in a three night duel and gain a three point lead at the top of the table while we give the chasing pack a serious boost in the race for European football. Usually I'd be saying "a Champions League" place rather then the generic "european football" but with Suarez out until the beginning of February and no solution to our offensive woes in sight, aiming too high may not be the best idea.
–steven.
To repeat the opening, I guess you can say almost 1,000 words. Like us on Facebook and follow us on Twitter already.