How Many Geordies Are There in the World Anyways?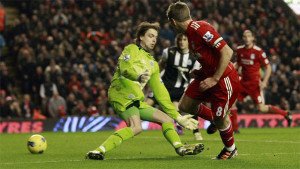 With the Reds in free fall, a visit to St. James Park isn't quite what we need right now. our last 2 league matches have been dour affairs, with a last gasp loss to QPR being compounded by a embarrassing rollicking at the hands of Wigan. A few years ago, a trip to Tyneside would have been a good place to stop the skid. Not anymore. Newcastle sit an astounding eight points, and one place, ahead of us in the standings and with the chance of us catching them looking more like a pipe dream and less like a reality, there's a real sense of foreboding hanging over our trip up North. On December 31st, we rolled over the Barcodes by a resounding 3-1 scoreline, still it was a nervy finish to a match that could have just as easily gone the other way.
Our lack of class in front of net continues to cost us, but Newcastle have looked dangerous in each and every go around. With Demba Ba still lighting up the Premier League, what has to be the coup of the season continues to propel them forward. This, of course, comes at an expense. A impressive goal tally and an attitude to match will always attract the attention of clubs, such as us, who are lacking that extra spark up top. Alan Pardew has sent an SOS out to the St. James faithful in an attempt to persuade the 16 goal Senegalese striker to spend another season on Tyneside and ignore the clubs that have been sniffing under his door and eyeing that £7mil release clause. While the replica shirted masses put in that extra effort to make one of their own feel welcome, they'll have at least one or two choice words for a couple of deserters.
In the very least, Luis Suarez can rest easy knowing that he won't be the primary target for the abuse raining down from the terraces; Andy Carroll and Jose Enrique will fill that role nicely. It'll be an inevitable conversation whenever these two sides meet. Despite the time that's passed and the prosperity that has found Newcastle in an enviable league position, an obvious grudge is still held. Kenny Dalglish doesn't believe the Geordie striker should be a target for abuse, but there's only one target we'll be concerned about.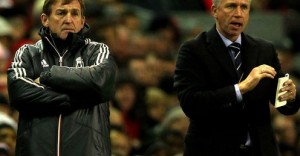 As we spend our nights dreaming about Jackson Martinez, there's far too many questions hanging over our heads, with each of them having equal and just as terrible repercussions if they're not met with the right answer. Do we line up 4-3-3 or stick with old faithful 4-4-2? Formation can also have a huge impact on player selection. The returning Craig Bellamy or the luke-warm prospect of Stewart Downing on the left? Would you rather an anonymous Dirk Kuyt or a more anonymous Jordan Henderson on the right? Will Jonjo Shelvey or debutante Raheem Sterling be making their respective cameo's against Wigan a recurring theme? Most importantly, who partners Skrtel in the heart of the defense?
As the debate around Jamie Carragher and his status as a liability continues to rage on, you have to wonder if the introduction of Sebastián Coates into the starting eleven would be a sound move. Kenny Dalglish has come in for almost as much abuse as the Scouse legend for his perceived lack of tactical nuance and inability to shunt an aging defender to the side, but the unknown variable of starting a unproven youngster against a striker like Demba Ba who regularly turns out deadly performances does nothing to remove the puzzling question marks above our heads. The Uruguayan defender scored a spectacular overhead kick against QPR which has lead the charge for his inclusion almost as much as the terrible performances currently being turned in my Carragher. Regardless, the result won't make much of a difference when the points are tallied up at the end of May.
We're playing for pride now. Champions League football is outside of our reach and only the impending trip to Wembley shines a light on the remainder of the season. We may be dreading it now, but by the time summer rolls around, we'll be begging for another trip to St. James Park. It's either that or watch England under achieve at the Euros. I know which one I'd prefer…
–steven.
You still got a shot to win a Liverpool home kit with Paisley Gates and Soccerpro.com but time is ticking down. Get those entries in before it's too late!