Solely Concentrating on the Negative Aspects of Life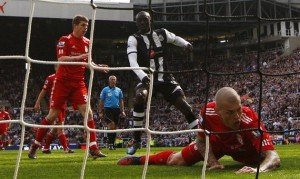 There's some April Fools Day jokes that are just plain cruel. Out of contention for Champions League qualification. Out of ideas. Once again out of time. It didn't take a real stretch of the imagination to see this coming. A 2-0 reversal at St. James was in the script long before kick-off. A pair of goals from Papiss Cisse was more than enough to send Kenny and his men back to Merseyside with their tails between their legs. A red card for Pepe Reina, a foolish dive from Andy Carroll, nothing but shenanigans from the others, more yellow cards then you'd ever want to see and more points squandered. Though, I suppose, you can't squander a chance you never really had to begin with.
Recapping that disaster would be an exercise in futility. You don't want to read it and I certainly don't want to write it. Let's leave it at that, shall we?