Stuck Inside of Wembley with the Mersey Blues Again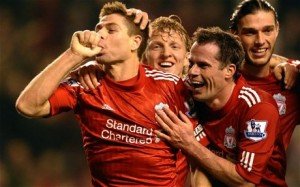 We've been here before. Sure, a FA Cup semi-final against cross town rivals Everton isn't exactly a new thing. The past few years have seen a distinct gap in these sort of high profile meetings, but we've all been around long enough to know the score. We've beaten the Blues, and sung the blues, in this situation a few times before; but I'm talking more recently. With our season teetering on a edge we may soon fall off of, we're walking into a semi-final that we're not exactly favored to win. In February, we had a relatively inexperienced squad shored up by a number of players who hadn't won a thing, going into a semi-final against a Manchester City side that should of stomped us. If I remember correctly, things didn't turn out the way the pundits thought it would.
With the Citizens banished and a nervy Carling Cup victory in the bag, we had time to start under performing again. Champions League aspirations, by this point, were well an truly dead. What's left to play for? Losses to QPR, Wigan and Newcastle saw Everton over take us in the table. It's been seven long years since our frenemies from Goodison finished higher in the league than we did. You can point to the 3-0 hiding we handed them in the middle of March, but you'd be grasping at straws. They're in form. We're not. Still, it doesn't matter, does it?
History is surely on our side, our squad costs light years more than that of our neighbors, the quality is supposedly there; but that nagging voice in the back of your head that is constantly comparing numbers gives them the advantage. Why? This is a derby. This is a Liverpool side that is thriving purely in the moment. A midweek visit to nowhere to play who knows means nothing. A high profile match against someone is everything. This thinking doesn't win you the league, but piss on that. It's April and any silly aspirations we had of giving the pace setters a run for their money are dead and buried. We'll worry about that next year; right now, it's time to focus on the Cup.
Even reaching the final would be an accomplishment and a slap to the face of anyone and everyone who doubted us. I have my own concerns, my own misgivings about the club and this season; it's all well documented here. I've had my fair share of moans over growing pains and missed targets. Now, it's time to accept this season at face value. We have one trophy already in the bag with a very good shot at winning another. Before this season, we hadn't seen hide nor hair of a final since 2007 when we missed out on another European Cup in Greece. Winning one and having a real shout at another? Damnit, it feels good.
Two things are absolutely certain: form is temporary and it all goes out the window in a derby. Talking numbers, which is depressing, tactics, which have been non-existent, or form, which has been poor, doesn't matter one lick. It's easy to throw your weight behind a winning team and ride the bandwagon all the way to glory; it's much harder to be there, and not just sitting around scoffing, during the tough spells. It's those of us who are there through the wind and the rain that know what this club is about.
Either you're with us, or you're against us. GET IN.
–steven.