Luck Smiles on Liverpool as the Hearts Stop Dead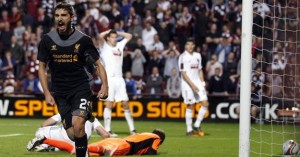 Although it wasn't exactly what we expected, it has to be said: we could have done much worse. An own goal from Hearts defender Andy Webster put a wee smile on the coupon of the Generalissimo and, though not entirely deserved, put Liverpool into the drivers seat for the second leg of their Europa League play-off tie. By every account you're going to read — including right here — the Reds put in a poor showing and the Jambos will feel hard done by with the result going against them. After missing out on so many of the close shave, could-have-would-have matches last season, I'll take a bit of luck wherever and whenever we can get it; like I've already said, it could have been worse.
With Carroll left out of the squad for whatever reason we want to dream up today, Jamie Carragher starting ahead of Sebastian Coates, Charlie Adam playing an entirely different game than the other 21 players on both sides of the pitch and Jordan Henderson being scuttled out to the right of midfield, it's no surprise that we turned in a performance that looked, at the best of times, like a wino on pay day. I'd like to say something eloquent like "disjointed" or "haphazard" to describe the run of play, but in reality, it was like discovering your filthy roommates unflushed turd; jarring at first, yet comfortingly familiar.
Most of us were looking for a response after being slapped aside by West Bromwich Albion on opening day; well we got it, but even a precious away goal was far from encouraging as the Reds turned in more of the same. As much as I hate to admit it, Hearts deserved more from this than they got, with the first half in particular making the current Scottish Cup holders look like — and I paraphrase this from a writer far greater than I — Real Madrid in Maroon.
Hearts skipper Marius Zaliukas laid that ambition on the line after recovering from a dead leg in time to make the starting line-up. This would be his sides first meeting with Liverpool since 1929 and even though they go to Merseyside next week facing a momentous task, he'll be up for it. Last year Tottenham strolled off 5-0 winners after Hearts rolled over and played dead, but there would be none of that tonight. Fabio Borini missed the lions share of Liverpool chances after being set up by 17 year old Raheem Sterling and Jordan Henderson more times than it warrants mentioning.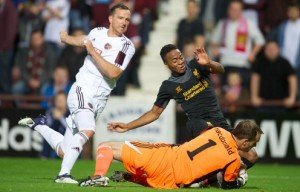 The Italian striker has only played a handful of competitive matches since Brendan Rodgers made him his first signing of his Anfield reign, and although it's a bit early for criticism, the youngster seems to be playing a bit out of tune.
Our problems with the wood work have been well documented and when Raheem — one of the bright spots of a dismal day out — sent the striker clear on goal, you'd have to forgive the torrent of expletives that erupted from our mouths when the post was all he could find. More chances would fall his way, but that bit of luck and composure a striker needs would elude him in Edinburgh.
It would take a well placed cross from Martin Kelly to open the scoring deep into the second half. Liverpool had started the period reasonably brighter than they ended the first with the hosts beginning to tire. The Scouse fullback was enjoying surging down the right and into the final third when his telling cross — missing Fabio Borini by mere inches — ricocheted off Hearts defender Andy Webster and past a stranded Jamie MacDonald.
Jamie Carragher, partnering Daniel Agger in defense, was an obvious weak link. I'm not about to jump on the Carra is past-it wagon as the veteran still has a role to play, but our former defender in chief turned in an confidence shaking performance. Being beaten for pace is no surprise — we, and everyone else who has a passing interest in football, knows that his legs are mostly gone — but his spot on positional awareness went missing time and again as Hearts striker David Templeton exploited one weakness after another. Whether Brendan Rodgers actually devalues this competition or not is up for debate, but his counterpart John McGlynn has an obvious air of urgency about him and the game plan of "hit them where they hurt" was spot on. He wants to stay in this thing, and so do his players.
Pepe Reina would have to preserve the slim lead as the final whistle approached, but it would be Brendan Rodgers who left Tynecastle with a smile and hardly deserved sense of relief on his face. Luck isn't everything; it needs to be backed up when it's not around. Still, it was nice to have fate smile down on us after it turned a blind eye so many times last year. The match against Manchester City on Sunday could be a different story entirely, but momentum is momentum and, for now anyways, it's nice to know that even though it could of been much worse, it wasn't.
-steven.
Think I'm just talking garbage? Let me know in the comments or on Twitter.