Sprinkle Salt Wherever They May Step: Manchester City Preview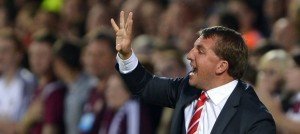 If an opening day meeting with West Bromwich Albion was going to ease us into the season with an easy win, we failed miserably. A trip to Edinburgh should have been a confidence booster before the weekend; it's safe to say it wasn't. The Champions are in town on Sunday and with them follows all the expectations of a team worth no less than the combined wealth of the Catholic Church; failure, for them anyway, is never an option. On the inverse, Liverpool go into the match with little to nothing to lose. Back to back defeats? It would be the first time since 1959 when the great Bill Shankly started the season with a double-zero, but it wouldn't be surprising. The pressure is all on City and that will be their undoing.
Can the blue team from Manchester handle the pressure and wrap up another title? I'm not doubting that at all, but Anfield hasn't been welcoming of Roberto Mancini or his ragged band of billionaires. You have to think all the way back to May 2003 to recall the last time City took full points in front of the Kop when former Liverpool striker Nicolas Anelka scored a brace to relegate us to defeat. It goes without saying that I don't want to see the trend bucked tomorrow.
After starting the season on the road, this will be Rodgers first taste of a league fixture at Anfield where he's not on the wrong end of the dugout. Even though it's City, expectations will still be as high as ever. The target is a Champions League place and with Luis Suarez, Glen Johnson, Martin Skrtel and captain Steven Gerrard returning to the squad after being rested for the Europa League match against Hearts, the mixture of experience and drive could be enough to give us our first 3 points of this fledgling season. That is, if we can get a stranglehold early and choke the proverbial daylights out of the visitors.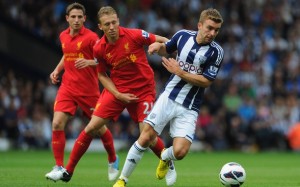 Lucas and Joe Allen put in arguably the best shifts last weekend against the Baggies and we'll be looking for more of the same tomorrow. With David Silva pulling the strings in the middle, keeping the centre of the park under wraps will be paramount to stopping the City attack.
The pair in the middle both boasted pass completion rates over 90% and won 80% of their tackles against West Brom. For a duo that haven't had much time to play together, those stats are an encouraging indication of the formation of a strong partnership. There's hardly a doubt that their first real test will be tomorrow. Even with Sergio Aguero on the treatment table, Roberto Mancini has a wealth of attacking options at his disposal and the Italian will not hesitate to use them. It's a long season, but three points against Liverpool on the road is about as valuable as it gets when the points are tallied up in May.
If we're going to win this, we'll need that scorched earth policy that's worked so well for us in the past. Give no quarter and expect none in return. Luis Suarez will have to be on point and find the back of the net when the opportunity presents itself. Fabio Borini will need to find the rhythm of this band and lose his penchant for being just a beat behind. The Captain will need focus; no more wasteful Hollywood balls or needless lofted balls to nowhere. Possession, possession, possession. Carragher, if the Gaffer is brave enough to put him on the pitch in place of the suspended Daniel Agger, will have to be on point at all time. Carolos Tevez, David Silva, Edin Džeko and Mario Balotelli are no slouches; Skrtel and the rest of back line will have their work cut out for them. Still, I'm strangely calm going into this.
More often than not, the pre-match jitters are enough to lose sleep over. Manchester City used to be an assured three points, but that's no longer the case. Can we win it? Of course we can. Despite the new manager, new season, new formation, new tactics spiel that I've rattled off as both a way to encourage and criticize, one fact remains static: this is Anfield. We're always up for the big ones and although this might not be as big as it gets, we're not going to let this just slip by.
steven.
Give us a Like on Facebook and a follow on Twitter. If you're into the tunes, check out our collaborative playlist on Spotify.