Liverpool (1) Swansea (3): Crashing Out of the Cup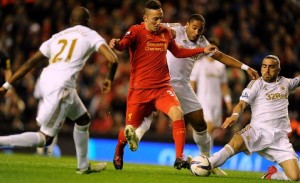 Three goals from a spectacular Swansea side and League Cup holders Liverpool crash out at the first real hurdle. Chico Flores opened the scoring with a crashing header 10 minutes before the break and Nathan Dyer would double their deserved lead 15 minutes before time to set up a scrambling finish.
With the fringes of the squad failing to make an impression, Rodgers was forced to shuffle his pack to stop his old side from putting him to the sword on his own patch of grass; a valiant effort and a shame it didn't work. Suarez would glance a header past stand in Swans 'keeper Gerhard Tremmel to shine a light, but Jonathan de Guzman would have acres of space to slot home the winner as the Reds are caught with too many men forward and Swansea show their old boss that they don't miss him that much.
With the fixtures piling up and a thin squad being battered by injuries and wracked by fatigue, the prospect of scratching a few fixtures off the calendar seems kind of appealing. On a whole, it's hard to be too upset about the Reds crashing out of the Capital One Cup. It was our lone piece of silverware last season and even then it tasted slightly like small potatoes; but, a starving man has been known to eat his own feces. But, I digress.
No one should be excited about their side losing a fixture whether it's for the supposed greater good or not and as the fans started heading for the exits just before injury time, you were slightly shocked that this was Anfield. We knew the team selection wasn't going to be the crème de la crème and sacrifices would be made as we looked to navigate through this clash without having to pull out the heavy artillery — unfortunately, we failed on both counts. An exhausted Joe Allen was forced into the midfield as a partner for Jonjo Shelvey and Gerrard, Suarez and Sterling were all introduced into the fray as the proceedings got more and more desperate.
It was pretty obvious from the outset that there was only one team out there willing to play; even without Rodgers, Swansea has remained an impressive side and that's not just reflected in the score line. More possession, more corners, more tackles — even more offsides. Michael Laudrup has built upon the foundation Rodgers set up for the Welsh side and were the better team on the night. And Liverpool? Well, they just didn't turn up. Henderson played right back, Stewart Downing put in a typical performance; Joe Cole thought he was a "quarterback" of some sort, Samed Yesil was starved of service and Oussama Assaidi was utterly anonymous.
Though it's nice to not have to say "this is case of the better team losing out" or "we got screwed" it's still disheartening when you're expecting to do that in the very least. If this was the dog's dinner, poor Fido is going to need a big upgrade before he runs away from home. We've got Newcastle at the weekend and another shot at bouncing back in a season that's been up and down like a rubber ball. Now that we've got one less competition on the cards, let's make it count, shall we?
–steven.
Got some feelings to work through? Give us a follow on Twitter, a like on Facebook or give us a shout in the comments below. We know what you're feeling and can help. Promise.