So, This is Slightly Awkward: Swansea Capital One Cup Preview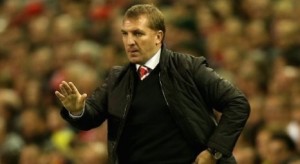 Seeing your ex is always a bit strange. Shifty sideways glances, shuffling feet, mumbled small talk; thankfully no one slept together, then things would really get weird. Maybe it won't be so bad for the rest of us, but when Swansea travels to Anfield for their first meeting with former gaffer Brendan Rodgers in the Capital One Cup tomorrow, there may be one or two awkward moments.
New Swans boss Michael Laudrup has gone out of his way to play down the meeting, but going out of your way to say that it's no big deal just cranks the spotlight up a bit brighter. You can couple that together with the fact that the Welsh side will be looking for their first trip to the last eight in their 100 year history and this quiet little midweek kick-about got a bit bigger.
The Reds go into this unbeaten in four, but still under heavy construction. After racing to a 2 goal lead in last weekend's Merseyside Derby, defensive errors saw them back on level terms before the break. Brendan Rodgers galvanized the side with some astute tactical switches at halftime, but he had the luxury of playing his A-Game in the league; tomorrow, he may have to work some magic with those on the fringes of the first team.
Stewart Downing, Jordan Henderson, Joe Cole, Jamie Carragher, Sebastian Coates — they could all come into the side tomorrow and without any minutes of real note under their belts, they all pose a concern. It's almost expected that Rodgers will be resting both Gerrard and Suarez after the pair clocked up some serious hours — both in the league and abroad — in the past few weeks. With Fabio Borini still on the treatment table, Samed Yesil could come into the side along with Moroccan winger Oussama Assaidi as the Reds go in search of goals. They're going to have their work cut out for them as well.
Michael Laudrup has done an excellent job since taking over for Rodgers in the summer and the former boss will be coming up against a very well drilled side; one that he helped put together and train. The Swans narrowly lost out to Manchester City in a very narrow 1-0 reversal at the Etihad Stadium. By the end of it all, Roberto Mancini had to throw on an extra defender as the Champions hung on for dear life. Injuries to goalkeeper Michel Vorm, Wayne Routledge and Wales captain Ashley Williams could raise the hurdle a touch higher if all 3 miss out on the match, but with Swansea sitting one point above the Reds in the table, they can go into this one with a shot at an upset.
So, much like the Europa League, the Capital One Cup is going o put a dent in our fitness and stretches our thin squad even thinner. Maybe meeting your old side in a knockout competition makes things a little awkward — that I think we can deal with. Getting knocked out by them though? Now that's going to make things uncomfortable.
-steven.
Want to get social? Give us a follow on Twitter, a like on Facebook or a shout in the comments. It's cheaper than getting a round in.