He's a villain but he's OUR villain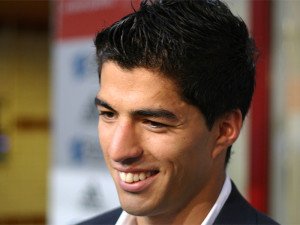 It has been a while since a character like this man has come along. I have looked into Liverpool's history to see if there has ever been a player who has been so divisive  but I do not think there has. He is a person who plays with the passion of 10 men, a player who will risk anything to get the result. He walks the tight rope of right and wrong and dabbles a bit on either side. He is the pantomime villain of the EPL and one of Liverpool's best signings. He is Luis Suarez.
Suarez has always been a magnet for controversy. At just age 14 he joined Nacional in his native Uruguagay. At age 15 he had already been red carded for head butting a referee. Later in his career at Ajax, he was suspended for an altercation with Albert Luque over a free kick. What really put Luis Suarez on the map, though, was his antics in the Word Cup in South Africa. On the heels of a man of the match performance against South Korea, he and Uruguay faced Ghana in the quarterfinals. The match was tied at 1-1 and went into extra time. Near the end of added time, Dominic Adiyiah of Ghana headed a ball towards goal that would have surely scored. Suarez, however, decided to take a gamble and stuck his arm out to block the header. He was red carded for the offense, but Ghana would lose the match. It was the first time the South American nation had achieved such a feat since 1970. You could say that his gamble paid off, but this was the world-wide event that would forever label Luis Suarez as a cheat.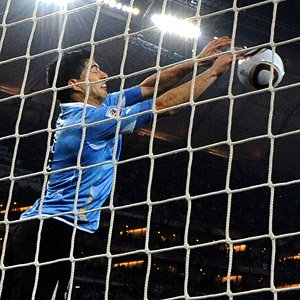 What is a cheat really? Normally, someone who cheats is a person who is trying to get away with something without anyone knowing. Suarez surely did not attempt stay on the pitch in the World Cup. He knew, in that millisecond before the ball hit his hand, that he would be off and the fate of his nation's side would rest on his teammates.
It is going a bit far to simply label Suarez as a cheat. He does, however, walk the line of acceptable and unacceptable. We'll never know exactly what happened during the Patrice Evra debacle. Does anyone really think for a minute that Luis was not trying to wind up the United defender? It would be easier to think not if he had not already proven he would do anything for his team on the world stage. Then, there was the biting incident while playing in the Eredivisie that saw him labeled as the 'cannibal of Ajax'. When the Uruguayan is wound up, he is unpredictable.
With all the controversy that persistently surrounds Luis Suarez, one would wonder, why the hell would any club want him? Well, that's the other side of Luis not many people know about.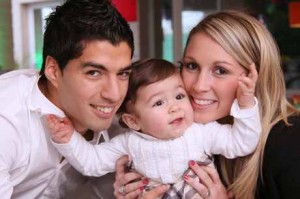 Suarez is a notoriously hard worker. When he moved to Groningen, he did not know Dutch or English, but soon had a functional knowledge of both which impressed his teammates. The impact of his move to The Netherlands was beneficial to his personal life as well as his footballing career. His girlfriend, Sofia, had previously moved to Barcelona and the couple had been maintaining a long distance relationship. A move to Europe brought him closer to his love. The two later married and now have a daughter named Delfina.
There has been some speculation as to why Luis took the coin that was thrown at him at Goodison Park and stuck it in his boot. Maybe it was his attempt to take the mick out of the opposition. Or maybe it was because as a young lad, he could not afford boots to attend a youth national training camp. He is a man who knows the value of money and what it's like to struggle.
Luis Suarez would make a great comic book character. He has varying personalities that are on the opposite ends of the spectrum. On one is the warrior footballer, the soldier who will do anything to win a battle. On the other, the smiley, easygoing, homebody who enjoys spending time with his family and friends. Wherever Luis plays, his reputation is sure to follow. His work rate and creativity, however, are enough to make many clubs turn a blind eye to the controversy which seems to follow him wherever he goes. Luis is certain to find himself in many more precarious situations during his tenure at Anfield. All we can do is shrug and hope the suspensions do not last long. We shouldn't set out to change him though, not many players would do absolutely anything for their club.
-CSD