Morning, Mr. Magpie: Newcastle Preview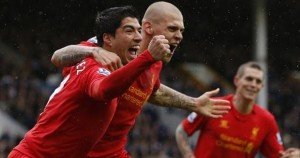 It's been a season chock full of putting things behind us and the 3-1 knockout blow that Swansea City dealt to us in the Capital One Cup on Wednesday is the latest in a series of events we'd sooner forget than rehash. This campaign hasn't started as planned; it's November and Liverpool have accumulated only a pair of league wins and with it, a negative goal difference. Is it wrong of me to want to fix that with extreme prejudice against Newcastle tomorrow? Maybe it's just me, but I've got a seemingly irrational hate-on for the Tyneside club and I can't quite put my finger on why.
Is it beer swilling, replica shirted Mike Ashley? The barcode tops? Selling us Andy Carroll for 87% of what they paid for their whole squad? Signing up Michael Owen from Real Madrid? I'm sure there are more reasons than that, but that's more than enough to hope they get a pasting.
You always want your team to win, though it's not that often — not anymore anyways — that Liverpool has the gods leaning in their favor. If you couple the fact that Newcastle are yet to win away from home this season with them failing in 18 years worth of attempts to win at Anfield, you'd have to admit that we're in with a shout. Magpies boss Alan Pardew may be aiming for a top four finish, but he'll have to get his side back on track, and winning at Anfield, before that pipe dream comes to fruition.
Though it seems that the Barcodes have a better shot at Champions League football than we do; the way we keep stretching our thin squad out, there's going to be nothing left of it shortly. Brendan Rodgers is expected to recall the usual suspects for the match on Sunday and, if he plays, this will mark the Skipper's 600th match in Liverpool red. Steven Gerrard will be only the third player in the club's history to reach this milestone after closing off appearance number 599 during our capitulation in the Cup. It wasn't all that long ago that the Captain alone could conjure little miracles with his boots and drag the team around him up to his level; though that fire isn't completely gone, it's fading fast and our over-reliance on both him and Suarez is beginning to take its toll. Though, to be fair, the Newcastle fans reading this can likely relate.
Demba Ba has been in sparkling form since arriving as a free agent in the summer of 2011 and though he's chasing a late fitness test ahead of the match — if he does play — he'll be the danger man for Newcastle; and with good reason. The Senegalese striker has scored 7 of the Tyneside clubs 11 league goals this season and you can only expect more to follow; though you have to hope they won't be coming tomorrow.
If we're going to turn the tide, it's time to start keeping things water-tight at the back. The majority of goals we've conceded this season have come from sloppy defensive errors and you have to wonder if the hammer could soon fall if things don't improve. Both Pepe Reina and Glen Johnson are expected to miss out with hamstring injuries which paves the way for Brad Jones to continue on between the sticks while Jose Enrique and Andre Wisdom hold down the flanks. Both Daniel Agger and Martin Skrtel should be back in the starting line up after sitting out the mid-week match with Swansea.
We're going to have keep things in check at the back and somehow find the net in the process. Newcastle may be looking to Demba Ba to lead the charge, but they have a handful of fit strikers to call upon when the well starts to run dry. Liverpool on the other hand has relied on Luis Suarez to both create and score; the Uruguayan has assisted on or scored 9 of the Reds 12 league goals this season. We need to beat Newcastle to get things rolling and sign a new striker in January if we've got a hope of salvaging something from this campaign. If both were done with extreme prejudice, you won't hear me complain one bit.
-steven.
Look for a boots on the ground match reaction from new Paisley Gates blogger Rushjob9 after we — hopefully — run away with three points on Sunday.