A View from the Kop: Liverpool (1) – Newcastle (1)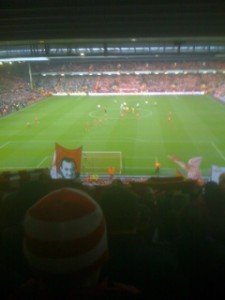 It really is Groundhog Day visiting our stadium of late. We seem to batter teams, yet manage to somehow only draw (or sometimes worse). The Kop was in decent voice at the start of the match- hailing Steven Gerrard for his 600th appearance. The men in red started the game at a terrific pace as we attacked the Anfield Road end with vigour and purpose. The crowd was buoyed by the start and it appeared to only be a matter of time before a goal.
Then, Newcastle scored through Yohan Cabaye with what appeared to be their first real effort. The Kop fell silent, the tension grew, and we hung on for dear life for half time- lucky to have not conceded a 2nd goal due to an uncharacteristic error from Stevie 'G'.
You could feel the tension, and I for one felt an anxious 'air of inevitability' as the 2nd half started. As minute elapsed without a deserved equaliser the anxiety simply grew. The songs dried up- we had been here so many times before over the past 18 months. "How many more chances?" a guy behind me asked. How many more times will I trudge out of Anfield feeling utter disappointment?
Then it came, a rare moment of quality from Jose Enrique, and an absolutely world class piece of control and finish from 'our Luis'. The Kop was awoken, the tension lifted, and the songs began to be sung with a real belief that we were actually going to win a match which we had absolutely dominated.
The noise levels intensified even further as Jonjo Shelvey went close not once, but twice with efforts which he should have buried. Fabricio Coloccini was shown a straight red for a very poor challenge that could easily have snapped 'our Luis' in two. And we had an effort right at the end that if we were having a run of good luck, would have crept in for a deserved Liverpool Winner.
But it wasn't to be. 2 more points dropped. As we left the ground the conversations took a familiar tone — all based around us finding a truly world class partner for Luis Suarez. A partner who will lift the heavy burden placed now solely on his shoulders. January simply cannot come quick enough…
Atmosphere 6/10
Match officials 8/10
Satisfaction 5/10 (at least we didn't lose)
Hope 11/10 🙂
-Rushjob9
Got some feelings to work through? Give us a follow on Twitter, a like on Facebook or give us a shout in the comments below. We know what you're feeling and can help. Promise.