Judging A Year Zero Project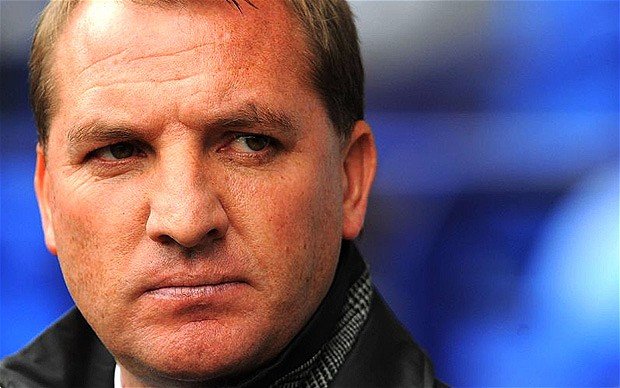 *This post was written in the immediate aftermath of the Capital One Cup loss to Swansea, but was not able to be posted until today due to time constraints*
The Anfield crowd roar expectantly. The players emerge from the tunnel, and make their way to the centre of the pitch. "You'll Never Walk Alone" echoes around the stadium, Red hearts united in hope as they sing their anthem. The captains exchange handshakes, and the referee flips a coin, as the stadium swells and vibrates with excited voices. Banners sway in the stands, their wit biting; their tributes poignant.
One team is full of fierce pride and determined football, and as the match starts, they immediately exert their obvious superiority. The other team is nervous and uncertain. They have little belief, nor cohesion. Their positioning is off, their passes lack precision, and the longer the battle drags on, the further their heads drop.
One team dominates the ball, the play, and ultimately the game. The other team puff and run, full of sound and fury, signifying nothing. One team thrusts, scores and wins.
The other team is Liverpool Football Club.
An over-dramatisation? Certainly. But one with the haunting ring of truth. While there has been far more to our displays this season than was in evidence in our Capital One Cup loss against Swansea, nobody is suggesting we are even close to being a fraction of the competitive side we've been in our immediate history, let alone the magnificent team of our glorious past.
I'd like to suggest some reasons as to why the current Liverpool need to be assessed carefully, and without the painful sting of defeat colouring our judgement unfairly.
Injuries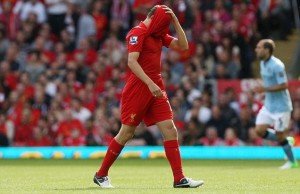 Injuries are a recurring theme this season. From the 2-2 draw at Manchester City – probably still our best team performance against a quality opponent this season – Kelly, Johnson, Enrique, Lucas and Borini have all been lost to injury, while Carroll (a late sub) has left on loan. Only Daniel Agger (suspension) was missing that day and is playing regularly now.
This has left us requiring Andre Wisdom to undertake a crash course in Premier League fullback play, while teenagers Suso and Raheem Sterling are also part of the starting XI, at an age where they'd be more suited to cameos and Cup appearances. Our depth – already extraordinarily low for a club of our size – has been tested beyond straining point. Recruitment in January will be vital to build depth and protect the fitness of our existing players equally as much as it is necessary for bridging the skill gaps in the squad. An injury for Luis Suarez, or even worse, a third setback for Lucas Leiva, are the nightmare scenarios we must avoid at all costs if any real progress is to be made this season.
Hopefully we can come back to resembling full strength at some point during this season, and when we do, I expect a major upswing in fortunes and results. If we can have an XI that rivals the strength of our XI vs City, I am confident that there will be some pride still left salvageable during the remainder of this season.
Control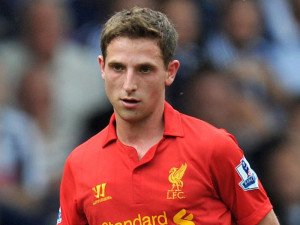 When Rodgers first signed for Liverpool, he preached about controlling the ball, thereby controlling the opposition and hopefully maximising the likelihood of victory. He spoke of resting on the ball, using it to tire our opponents, and knocking it around – at times – just to keep our rivals from having it. Teams without the ball, obviously, are unable to score.
Rodger's blueprint for achieving this control centres around the midfield, which he sees as the hub for dictating the play, linking midfield and defence, and setting the overall pace and tempo of the game. In the interview generously transcribed for us by The Anfield Wrap's Jim Boardman, Rodgers talked about inverting the midfield trio found in the garden-variety 4-2-3-1. The double-pivot of defensive midfielders – initially regarded with suspicion, but then universally admired under Rafa Benitez – are now traded under Rodgers' system for a lone fulcrum, supporting the attacking midfielder, with one "half round the corner" midfielder expected to transition intelligently between defensive and creative duties.
One of the major problems Liverpool have had adapting to Rodgers' system of play has been the lack of a controlling midfielder in the absence of Lucas Leiva. For all of his qualities and promise, Joe Allen does not screen the back four in the manner of a defensive midfielder. He doesn't read the play, cover the fullbacks, or plug counter-attacking lanes with anything like the effectiveness a fit Lucas Leiva can. But he was never meant to – bought for the "half round the corner" position, Rodgers believes he can be as much as 50% better there, and I've seen enough to believe he's probably right.
With Jay Spearing out on loan, and probably not the right kind of player for Brendan's Liverpool anyway, Lucas remains the only natural holder left at the club. When fit, he's probably in the top 5 players in his position in the world, and is without peer in the Premier League, particularly now that Nigel De Jong has left Manchester City. His loss is a massive, massive one.
It's my belief that reason number one that Rodger's team is not working fully just now is that the biggest, most central cog to all of his plans is not available. In turn, this has displaced arguably his second and third cogs, with Allen and Gerrard forced into roles that are not their ideal. Some quality defensive midfield cover is a necessity to see our porous defence become water-tight again, but it will also give us far more midfield control, with Allen's twin powers of retention and dynamism released further up the field, where they belong.
We Lack Attack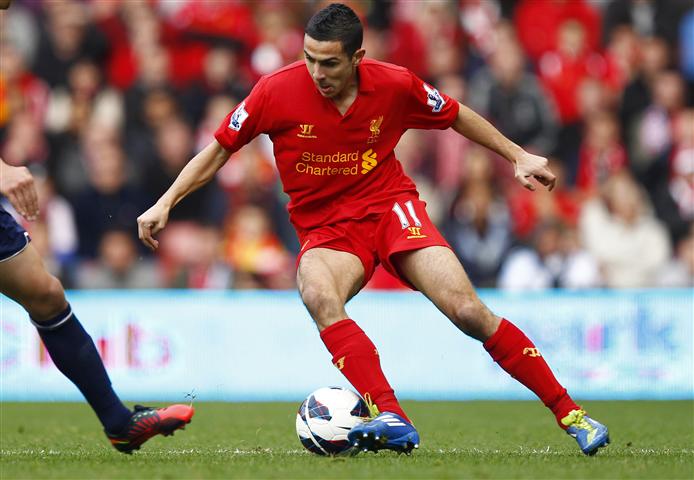 As I stated at in my recent comparison of Liverpool's attack with some of the benchmark teams in the Premier League, we are a long way behind our rivals in terms of creating quality scoring chances, and converting them at an acceptable percentage. Of course this has everything to do with depth and spending power, with our rivals able to sign mature talents at the peak of their powers, and stockpile multiple quality players for each position on the field.
Of our attackers, only Suarez and Assaidi fit the criteria of being mature, international-class talents that we want to keep. Stewart Downing is an international, but clearly not the right fit for either the team or the club, while Borini, Sterling and Suso are players who are all still in their development phase, although at completely different stages of that journey. The less said about Joe Cole, the better.
I firmly believe that as promising as Raheem Sterling is, he does not offer our first XI as much as Oussama Assaidi does right now. Controversial perhaps, but that's my opinion nonetheless. Say what you will about the Dutch Eredivisie, but Assaidi has demonstrated he knows how to pass and move, is exceptionally confident in beating his fullback with trickery or pace, can shoot low and powerfully, and has accurate delivery from either foot – which nobody is expecting from a 17 year old, even a fantastic one like Raheem Sterling. While he's no doubt in a bedding-in period, Liverpool need more Assaidi in the Premier League, as he has the right ingredients in his game to provide much of the creativity and threat we are currently lacking.
Assaidi has experience of breaking games, of dominating, of starring against good opposition, such as his decimation of FC Twente in 2010/11, in which he managed a sensational dual hat-trick of 3 goals and 3 assists. He has been able to craft his ability to torment fullbacks with subtle direction changes, body feints and acceleration, and can do each of these with far more sophistication than young Sterling can. I say all of this as a huge Raheem fan.
Assaidi shouldering more of the workload allows Raheem to develop at a manageable and sensible pace, with cup starts and league cameos a more suitable burden for a youngster in their first full season. Assaidi is for now, Sterling is for the next 15 years – we do not want the brightest flame to burn the quickest in our case. So we must protect him by using Assaidi's mature talents, and allowing Raheem's raw promise to become polished excellence gradually.
Beyond using our development players more wisely, it's clear more firepower is needed in January. Brendan Rodgers has intimated as much publicly, saying "I just feel January is a window to freshen up the squad with a number of names. I don't want to say a particular number but, at the top end of the field, we need that help and support. That might take two or three players to do that." Two or three attacking players would be brilliant, with our right wing-forward position, the central striking role and the attacking midfield position all inadequately stocked.
Names like Theo Walcott, Klaas-Jan Huntelaar and Lewis Holtby have all done the rounds, and with each of them approaching the end of their current contracts, the possibility of affordability and availability happily coinciding for Liverpool is slightly enhanced. Investment is desperately needed, and I hope there is money available for solving some of the more obvious personnel problems that are killing our points total right now.
Judging Wisely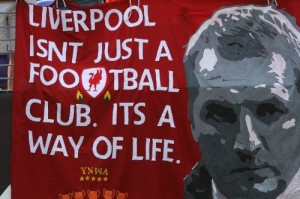 This is Year Zero, the first of Brendan Rodgers' tenure, and we are only beginning the rebuilding task now – an overhaul that should rightfully have taken place some 20 years ago, or any year between the inception of the Premier League and the current campaign. For too long we have made a mockery of our status and our legend. For too long we have let mediocrity set in, and while we've had occasional glimpses of genius, such as Gerrard, Alonso, Torres and the nearly-men of Rafa Benitez, the tag of being the Premier League's perennial underachievers has been hard to shake.
Add in the fact that we were nearly obliterated by our previous owners and are still recovering from the mess we were left in – one that left us needing courts, lawyers, banks, businessmen, fan unions and "internet terrorists" to save us – and it's clear to see why Liverpool are now so far removed from being a Premier League force of any note.
Sadly, in life, it takes longer to build than it does to destroy. This is Year Zero, and the time to judge this project is when it is nearing maturity – when the fruit is ripe.
Peace,
-Grubb