Help Anne Williams Get Justice Now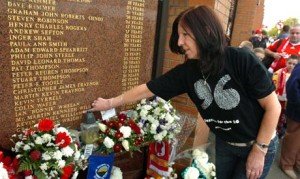 Some people need no introduction, and Anne Williams is one of those people. Mother to Kevin Williams, one of the 96 victims of the Hillsborough Stadium Disaster, has fought for the last 23 years to find justice for her son and peace for herself.
With no new inquests currently scheduled for any of the victims, Anne is finding herself short on time as she's now living in a Southport Hospice after being diagnosed with terminal cancer. The fact of the matter is that she may not be around by the time a new inquest is scheduled. An online petition has been brought forward to speed up the process and appeal for Kevin's inquest to be pushed through.
The petition needs 100,000 signatures and even though it's a quarter of the way to the goal, time is of the essence. Leading LFC forum Red and White Kop has provided some ideas for you to get involved and spread the message:
– Encourage people you know to sign the petition: Has your family all signed? Have your friends? Have you asked around the workplace for signatures? UK citizens can sign – even ex-pats. Get on it.

– Encourage people you don't know to sign the petition: There are a number of ways to do this, such as tweeting celebrities the petition link and asking them to retweet it, posting on different forums with a message about the petition and a link, emailing websites and seeing if they'll put the story on their front page and writing to journalists in newspapers (with the obvious exceptions) to see if they will publicize the story and the petition.

– Email your MP: There is some positive political will behind Hillsborough related causes at the moment, so let's take advantage of that. Visit WritetoThem to find out who your MP is.

New email templates are in production for those who struggle to put their feelings into words and will have been added to the main post here.

– Email those involved in the inquest process: As above, there will be email templates and email addresses for those we need to contact
Even if you're not a UK citizen, you can get involved and help push this number over the top. We can and will do this. Liverpool FC is more than a football club and your actions can help bring peace to a dying woman who has spent 23 years fighting for justice for her son and our fans. Do not underestimate your power to make a difference.
–steven.