A view from the Kop Liverpool 1-3 Aston Villa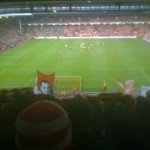 Well, this didn't go to plan. The anticipation before the match was of a comfortable win, and a real push for the top four. Ouch…..
The Kop was in decent voice before kick off and was further buoyed by our early game dominance. For the first 20 minutes we battered Villa, but true to form- didn't put the ball in the net. You could feel the tension building as chance after chance went begging. The Kop was getting anxious.
Villa scored totally against the run of play, then added a second, again totally against the run of play. The ground fell silent. You could literally hear a pin drop- aside from the Villa fans who sung their hearts out. Half time was greeted by moans from the frustrated Kopite's.
We figured we'd come out firing for the 2nd half- but it didn't happen. We were very very poor, and I wasn't shocked when we went 3 down, the final score only masked by a Stevie consolation 3 minutes from time. Thousands of fans had already left the ground at this point.
It's not the easiest task writing after such a disappointing performance. We genuinely felt we were on the cusp of a decent run, and an anticipated march up the league. I noted for the first time that belief is beginning to wane on the Kop. Fans are fed up, and FSG need to take note. Cos failure to back Brendan in January as in August and I reckon the Kop will easily turn. The natives are very very restless. Time for action, and not words….. YNWA