Crisismas? What Crisismas?: Fulham Preview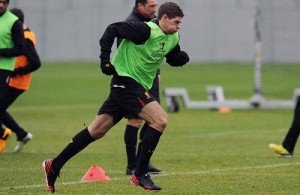 It's our last game at Anfield in 2012; good riddance is probably the best way to sum that up. Our home form has been nothing short of disastrous; we've won only five times in front of our own fans for a combined total of fifteen points. Ruminate on that for a moment while I try to distract you with positivity.
Despite being embarrassed by Aston Villa — a side that has been engaged in a season long love affair with the relegation zone — last weekend, we're still only five points out of fifth place and with a handful of so called easier matches on the horizon; we should be on our way up the table, right? Hang on for a second while I try to crash us back to reality; we're going to have to navigate our way past Fulham, adding a sixth win to our pitiful list, before we can even consider gate-crashing the top half of the table.
Maybe doing that won't be as hard as it sounds; last weekend, the Cottagers dropped points to struggling QPR as the Hoops managed their first win of the season. The win was a bit hard on Martin Jol's side with the opener deflecting in off defender Brede Hangeland and the winner being one of those one off pieces of magic — still, momentum can be everything. With Dimitar Berbatov and Hugo Rodallega struggling, the Cottagers have won only once in their last nine Premier League matches and have only taken full points once in nine attempts on the road this season. Then again, when you look at the table, we're looking like good company.
Fulham sit only two points below us in the table and that alone means that we needed to turn things around last weekend. We were prone to the counter-attack and conceded 3 goals against Aston Villa last weekend and we paid for it in spades; thankfully, Jose Enrique returns to the side after picking up an injury against West Ham and this should see Stewart Downing, who put in a less than satisfactory performance against his old club, return to the bench — or, joining Luis Suarez in attack. On load midfielder Nuri Sahin also returns to the side and could give Joe Allen a much needed breather as Brendan Rodgers looks to fight off fatigue in his thin squad.
The former Swansea midfielder has looked loagy as of late and with his early season form putting him in with a shout for player of the season, those cries have quieted substantially. While some will brush off fatigue as a creation of the manager to account for poor form, it's a very real thing, especially for younger players who haven't adjusted to the grueling pace of top flight football. We used to pull our hair out when Rafa rotated the squad, but now we don't have the talent — or even the players — to do that. Raheem Sterling is also in for a rest and news that Thomas Ince could be returning from Blackpool in the January transfer window could see a pile of pressure currently on the winger — who's on the verge of signing a new 5 year deal — taken off his shoulders as some decent cover comes in.
Even when we weren't winning, we could point to the quality of football we were playing as a positive. Progression was there and we were on our way up; last weekend knocked us down a peg or two and put a serious damper on that story. As we approach the business end of the season, it's time to start putting points up on the board and against Fulham, there's no reason we can't do this.
–steven.
For those of you who don't remember Supertramp, it's time to change your nappy.